Dentures in Tucson, AZ
Restore Your Full, Beautiful Set of Teeth
Whether you're missing some, most, or all of your teeth, we have various options for dentures in Tucson that allow you to enjoy a complete, beautiful smile once more. Dr. Jay Lopez is a highly trained dentist who gets to know you, understanding your needs and smile goals. He takes pride in providing his patients with lifelike dentures that better their lives. Read on to learn more about dentures and the benefits they bring.
Why Choose Jay R. Lopez, DDS, PC for Dentures?
Advanced Technology for Precise Treatments
Experienced Dentist & Team
Lifelike, Durable Restorations
Who's a Good Candidate for Dentures?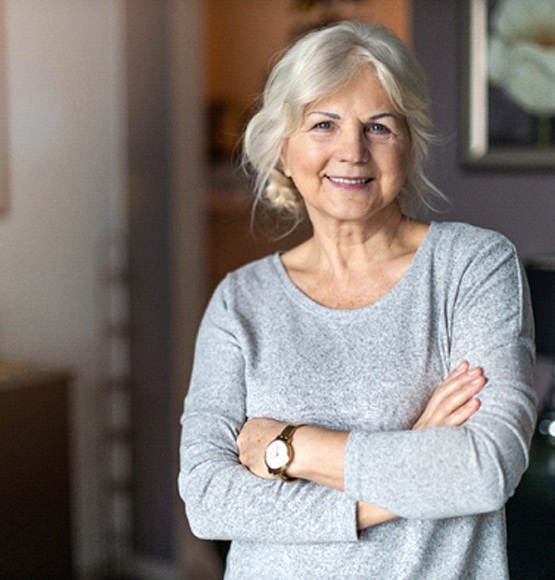 Virtually anyone can get dentures regardless of how many teeth they've lost. Of course, as with any kind of dental treatment, the only way to know for sure that you're eligible for dentures is to speak with your dentist. Remember, even if you can't currently receive dentures, you may be able to become a candidate after taking whatever steps are necessary to restore the overall health of your gum tissue and the underlying jawbone.
Effects of Missing Teeth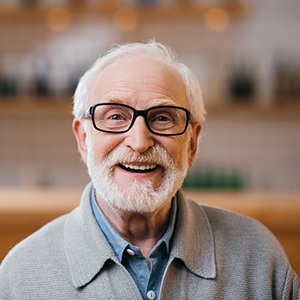 When considering your candidacy for dentures, it's important to remember the consequences of missing teeth. There's more at stake than just appearances; an incomplete smile can affect your health and quality of life in a variety of ways. For example, any remaining teeth will start to shift out of their proper position, which can change the alignment of your bite and make chewing more difficult. You may also have trouble pronouncing certain words.
Furthermore, without a full set of teeth, your self-esteem will likely suffer, and you may have a hard time smiling in front of others. In short, you don't want to leave the space in your mouth empty for too long. Any missing teeth should be replaced as quickly as possible, and dentures can be a great way to do that.
What Qualifies You for Dentures?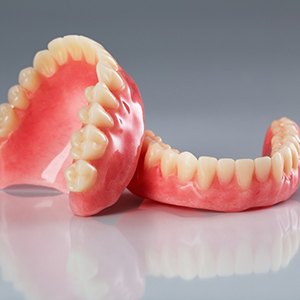 You are likely a candidate for dentures if:
You have experienced significant tooth loss.
You have multiple badly decayed or damaged teeth that need to be removed.
You have a healthy jawbone and gum tissue that can support dentures.
You are able and willing to take care of your dentures in the long term.
Remember that there are multiple kinds of dentures that you can get depending on your situation, including full dentures, partial dentures, and implant dentures. We'll determine which kind is right for you at your initial consultation.
Alternative Tooth-Replacement Options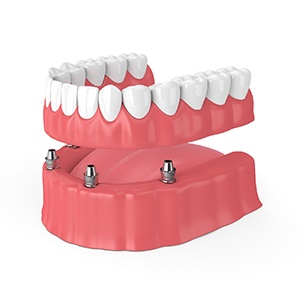 If there's anything that might make you a less-than-ideal candidate for dentures, there are still other tooth replacement options that you can consider:
Dental Bridge: A bridge is made up of two crowns and a number of replacement teeth. It's often an ideal choice for patients who have only lost one tooth or a few teeth in a row. However, to receive a bridge, you need healthy teeth adjacent to the gap in your smile.
Dental Implants: Dental implants are versatile and can be used to support a wide variety of restorations, including dentures. In order to get dental implants, you need to have sufficient bone density in your jaw. Compared to traditional dentures, dental implants do carry a higher cost, but the tradeoff is that they can last for decades with the right care. And since dental implants stay firmly in your jaw at all times, you won't have to worry about your new teeth slipping.
Learn More About Dental Bridges
How Dentures Are Made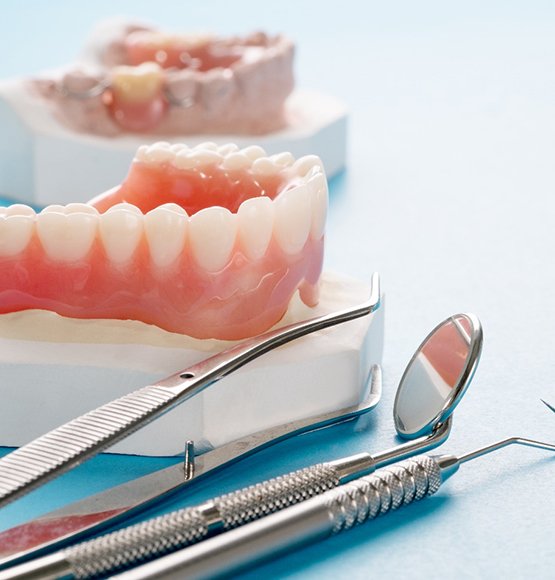 While you can expect to enjoy numerous benefits from replacing missing teeth with dentures, you may be curious about what's involved in the creation process. By understanding how your restorations are made and the kinds of materials used, you may find more to appreciate for your brand-new smile. Read on to learn how our team achieves durable and natural-looking results with dentures in Tucson.
What Are Dentures Made Of?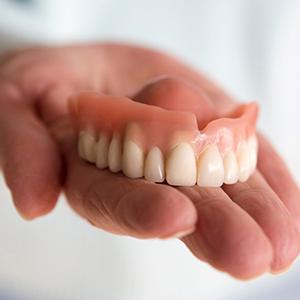 Dentures consist of mainly two different parts: the prosthetic teeth and the base of the denture. Here's what these portions are made of:
Artificial Teeth – These replacement teeth will be fitted to the denture base. The artificial pearly whites are typically constructed out of resin or porcelain due to their ability to blend in seamlessly as a natural smile. That said, porcelain is more popular because it can closely mimic tooth enamel, providing a lifelike solution.
Denture Base – This is the gum-colored foundational structure that offers support for prosthetic teeth. The materials used to make it may include acrylic, resin, or nylon. In many cases, full dentures will be made of acrylic due to its ability to mimic gum tissue. Partial dentures usually consists of metal clips with acrylic or nylon bases.
The Denture Creation Process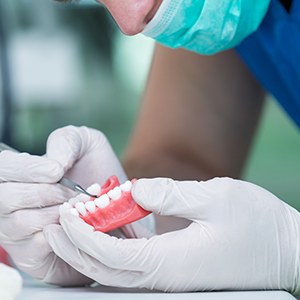 Creating personalized dentures involves a process with multiple steps. To begin, Dr. Jay Lopez will take digital impressions of your lower and upper arches, bypassing the need to use paste. This technology is extremely accurate and will be used to help create dentures that will fit flawlessly with your specific smile.
We'll send the impressions to a trusted dental lab so they can fabricate your custom restorations. The technicians will begin by forging a wax replica of the gumline, which the prosthetic teeth will be fitted on with a device called an articulator. They'll then start making subtle adjustments to the copy to ensure it matches your desired results.
The lab technicians will send the denture replica to our dental office for a fitting to see if they look good. If so, we'll send it back to the lab for completion. The next step involves boiling the dentures by placing them in a flask, adding plaster to maintain the shape, and then putting the flask in hot water to melt the wax portions. They'll make holes in the artificial teeth and replace the wax by injecting acrylic in the flask.
Once most of the plaster has been removed with special tools, the dentures will be placed in an ultrasonic bath to get rid of any other lingering particles. The technicians will also cut out any excess acrylic before finally polishing the dentures for a beautiful result.
You'll return to our dental office for a fitting once we receive your competed dentures. Our team will make any necessary changes and confirm that your restorations are well-fitted and satisfactory before sending you on your way to enjoy your new smile!
Adjusting to Your New Dentures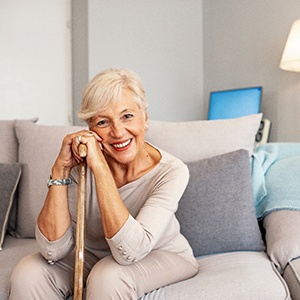 When first wearing your dentures, you might experience mild discomfort as your mouth gets accustomed to them. The good news is that this is typically short-lived and your restorations should start to feel more natural the longer you have them. During this adjustment process, try sticking with softer foods and practice exercising your facial muscles. However, if you notice any pain that persists or worsens over time, don't hesitate to give us a call.
Types of Dentures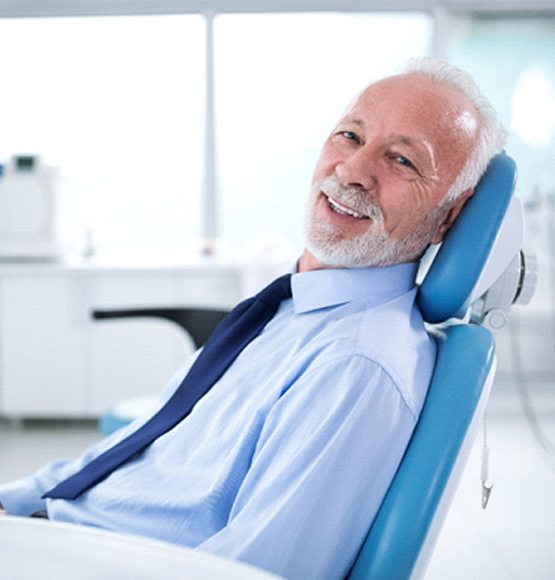 We offer 3 different types of dentures, which is why an initial consultation is so important. Our dentist in Tucson will carefully examine your mouth and review your past medical history before recommending the best solution for you. Here are our amazing options for dentures:
Partial Dentures
A partial denture is made up of a base that is attached to artificial teeth. We customize partial dentures to match the needs of our patients. It can be difficult to eat and speak with spaces throughout your mouth, however partial dentures can restore your missing teeth while leaving the rest of your natural smile intact.
Full Dentures
Full dentures are designed to replace an entire arch of teeth. They are typically made of acrylic, comprised of a gum-colored base attached to prosthetic teeth. They rest on top of the gums and remain stable with suction or denture adhesive. We custom fit dentures to ensure that they are comfortable to wear as well as natural looking.
Implant Dentures
If patients are looking for a more permanent, strong option, implant dentures are perfect. Dr. Lopez combines dental implants with dentures to provide ultimate stability, function, and confidence. Dental implants are rooted in the jaw, keeping the denture stable while providing a number of amazing health, lifestyle, and aesthetic benefits.
Digital Dentures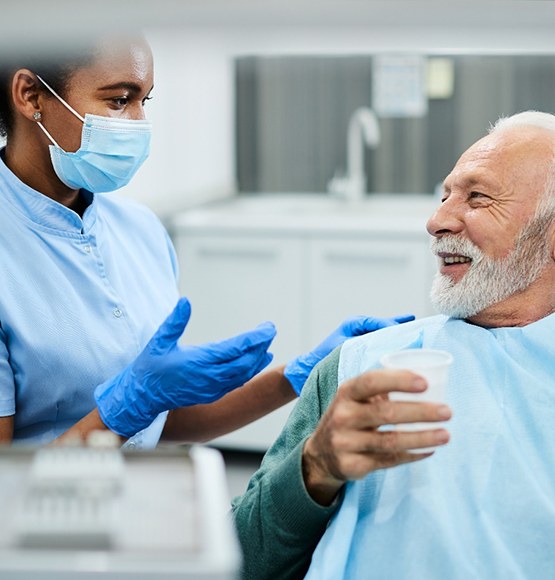 Say goodbye to the hassles of traditional denture fabrication! With cutting-edge technological advancements, denture creation has entered the digital age. While a traditional impression is still necessary, a 3D scanner captures it with precision, transferring it into a high-tech system. Using advanced software and the expertise of our team, a digital model is generated, ensuring the creation of the perfect denture. We'll craft a set of dentures from solid, perfectly cured hard resin.
Learn More About Digital Dentures
The Benefits of Dentures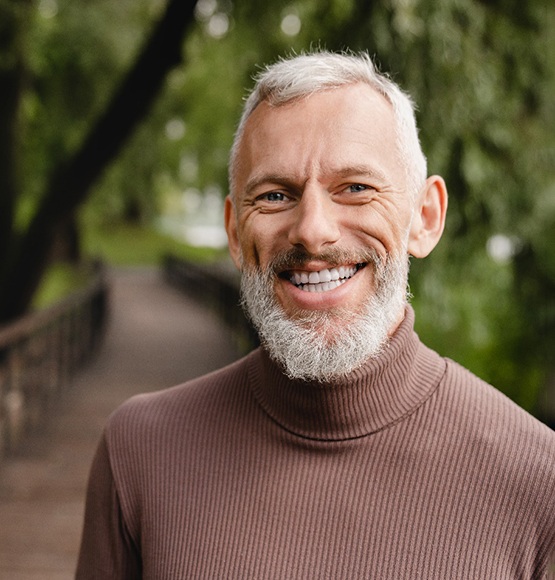 If you have been missing multiple teeth for a while, it's probably not hard for you to see the difference that a full smile can make. Life with an incomplete or missing arch can be difficult, but getting expertly designed dentures can quickly and significantly improve your situation. What are the advantages of wearing dentures? Below is a list of some of the benefits that you'll be able to enjoy with the help of your prosthetic.
Psychological Benefits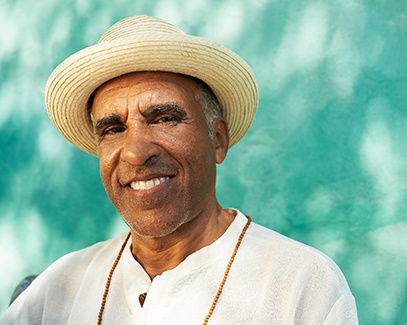 First of all, it's important to realize that losing teeth can have an effect on your mental well-being. People with incomplete smiles tend to have lower self-esteem, and they're more likely to develop symptoms of depression. Additionally, some individuals become less likely to participate in social activities due to being embarrassed about their missing teeth.
Dentures fill in the empty space in your mouth, and they're made to look like your natural teeth. As such, they can give you a significant confidence boost after tooth loss.
Clearer Enunciation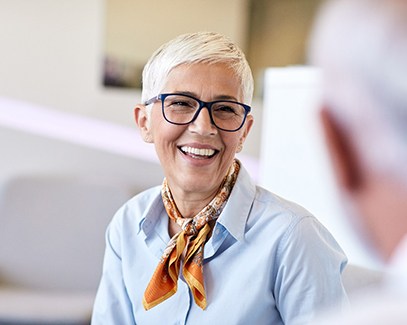 Your lips, teeth, and tongue all work together to pronounce a variety of words. Losing your teeth can have a significant impact on your ability to speak, making it more difficult to enunciate properly.
With dentures, you'll once again be able to speak clearly. Your tongue will need a little time to get used to the prosthetic, so you might notice a lisp or some slurred speech at first. Fortunately, adjusting to talking with dentures is simply a matter of time and practice; eventually, it will become second nature.
Improves Nutrition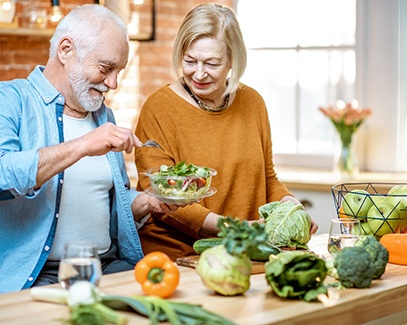 One of the biggest limitations of missing teeth is not being able to chew your food as thoroughly as you need to. Improperly chewed food causes the stomach to produce more acid, leading to indigestion. Additionally, there are several foods – including certain fruits and vegetables – that are extremely difficult to eat with an incomplete set of teeth, which can affect your ability to maintain a nutritious diet.
With dentures, you'll once again have a full set of teeth for chewing, allowing you to enjoy many kinds of foods. With a more varied diet and improved digestion, it will be easier to get the nutrition you need for a healthy life.
Preserves Oral Health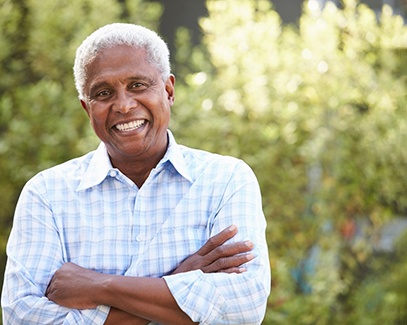 Gaps in your smile can lead to further issues for any remaining teeth. They could drift out of their proper alignment, or they might wear down faster than normal due to being exposed to additional pressure during chewing.
By getting dentures, you can make sure your natural teeth remain in place and ensure that the weight of chewing is being properly distributed throughout your mouth.
Expands Opportunities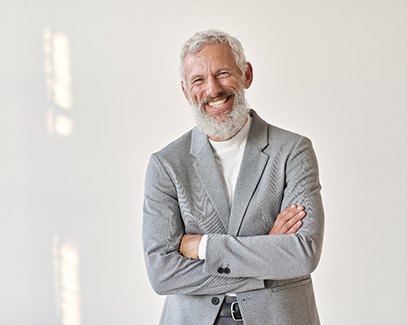 Sometimes your smile can influence your ability to get a job. One study has shown that poor dental health is associated with lower chances of being employed. Dentures can help you make sure you're making the best possible impression at job interviews and ultimately improve your prospects for your career.
Understanding the Cost of Dentures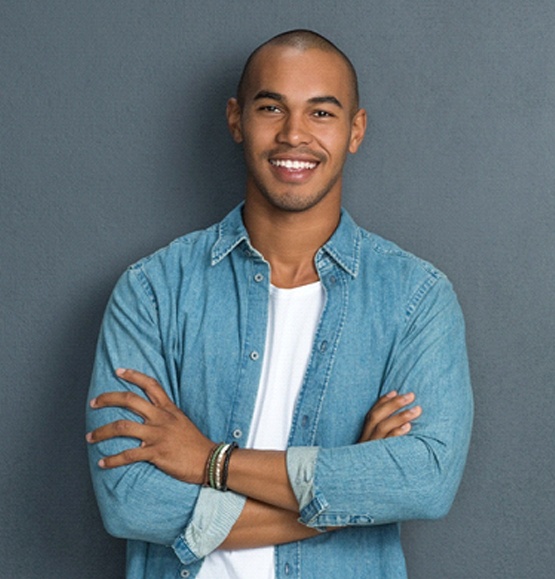 Cost shouldn't stand in the way between you and a healthy and functional smile, which is why our team at Jay R. Lopez, DDS does everything we can to help. Dentures in Tucson are a tried-and-true treatment that countless patients turn to in order to restore their smiles and eat and speak with ease again. During your initial consultation, Dr. Lopez will ask you some questions to better understand your desires and unique oral needs, and based on that, our team will outline a treatment plan for you so you know exactly what to expect throughout the process, including details on pricing.
Factors That Affect the Cost of Dentures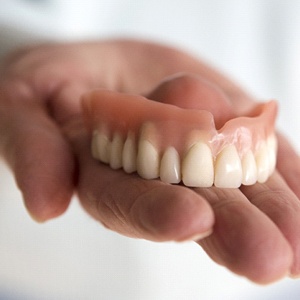 There are several different factors that can impact the cost of your restorations, including:
Whether you choose to have them retained by dental implants
Any preparatory work needed, like tooth extractions or gum disease therapy
What types of materials you choose to have your dentures crafted from
How many teeth you're missing and whether you require full or partial dentures
We encourage all of our patients to keep an open mind during the consultation process as we walk you through all of your options, because it's not always the case that the cheapest option will be the best one for you.
Are Implant Dentures More Expensive?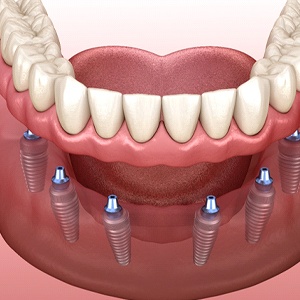 It's true that implant dentures have a higher up-front price tag, but many patients will agree that they're well worth the initial investment. Not only do they look and feel completely natural, as well as prevent jawbone deterioration, but they also have the ability to last for over 30 years, which is four times the average lifespan of traditional dentures. Because of this, implant dentures in Tucson are a better long-term investment in your self-esteem, oral health, and wallet.
Does Dental Insurance Cover Dentures?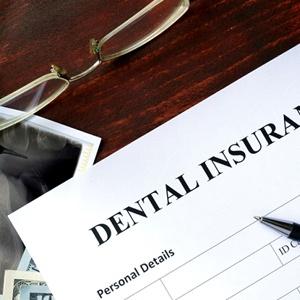 In many cases, dental insurance policies do cover a portion of the cost of dentures in Tucson. However, it's important to keep in mind that every plan differs, so in order to determine the details of your coverage, it's best to contact them directly. That being said, some plans may cover up to 50% of the cost, while others may cover more or less. Dr. Jay Lopez is also an in-network provider with several major PPO plans, including BlueCross BlueShield, and Aetna—allowing you to save more if your plan is partnered with our practice.
Options to Make Dentures More Affordable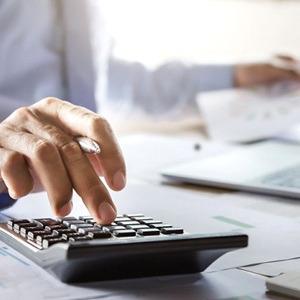 In addition to being an in-network provider for many dental insurance plans, we also offer an in-house membership plan and additional financing to help you pay for dentures. Through our membership plan, you can save up to 15% off of your treatment, and with financing through CareCredit, you can separate the cost of your treatment into six or 12 months at little to no interest. To learn more about the options we offer, please give our team a call!
Dentures Aftercare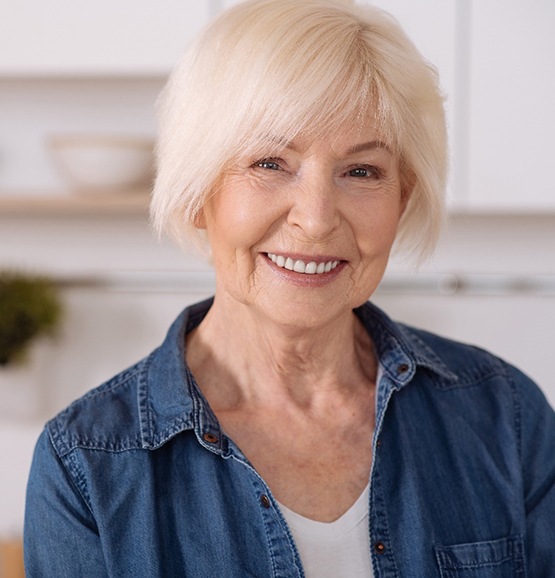 Taking care of your dentures is essential. Whether you still have a few remaining natural teeth or none at all, ensuring the health of your mouth and prosthetic is the best way to enjoy a longer-lasting smile. With a transformed appearance that allows you to eat, speak, and smile, you'll want to make every effort to be mindful of your new teeth so that they do not suffer damage along the way. To help you better maintain your dentures, here are a few key tips to consider.
Removable Dentures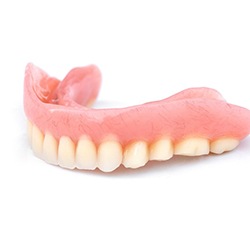 Remove After Eating
You'll need to make sure that you take your dentures out after every meal. This means rinsing off your teeth so that food debris and bacteria do not have a chance to accumulate. Just make sure to avoid using hot water, as this will warp the materials and cause them to no longer fit properly.
Clean Your Restoration
When it comes to cleaning your dentures, make sure that you use a soft-bristled toothbrush and denture cleaner. You can also use mild dish soap if you prefer. You'll first need to take them out of your mouth and be gentle while brushing them. Do not use toothpaste, as it is highly abrasive and will scratch the material. If you are preparing to go to bed, go ahead and place your dentures in a denture-cleaning solution so that they can soak overnight. When waking up, make sure to thoroughly rinse your dentures before reinserting them into your mouth.
Keep Your Dentures Safe
Dentures may be durable, but they can break if too much pressure is applied. This is why we recommend that you place a towel in the basin of your sink. This will offer greater protection should you accidentally drop them while attempting to clean them. You'll also want to make sure that they are never within reach of small children or pets, as you might lose them or find them damaged.
Remove Dentures When You Sleep
At night, your mouth needs time to recover from the previous day. Your gums and bone need time to absorb valuable nutrients and breathe, which is why you should plan to soak your dentures while sleeping. Because of how they restrict circulation to the gums throughout the day, they can begin to irritate the soft oral tissues. But when allowing them to soak, you give your gums a chance to rest.
Placing them in a denture cleaner overnight also reduces your chances of developing pneumonia, which can become a real risk if you opt to sleep in your dentures.
Notice Changes
Over time, your jawbone will begin to shrink, causing changes to occur to your dentures. As soon as you notice any changes to the fit, or you suddenly discover irritation to your gum or mouth sores, you need to get in to see Dr. Lopez. It may be that you have an infection or need your teeth relined. Once your dentist has the chance to review your oral anatomy, we can determine how best to proceed. It may be repairing your dentures or replacing them altogether.
All-On-4 Dentures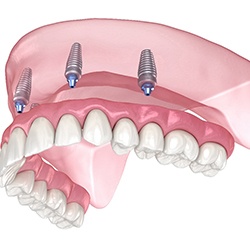 With All-On-4 dentures, you'll want to make sure that you brush them twice a day with a manual or electric brush. Avoid using toothpaste. Also, make sure that you floss underneath the denture, as bacteria and plaque can build up over time, putting your gums at risk for disease. You may find it helpful to purchase floss threaders or a water irrigator to adequately push out debris. It can also be helpful to use sulcus brushes that help clean between the prosthetic and your gums. Finally, make sure to rinse your mouth with an antibacterial mouthwash each day so that tartar does not accumulate.
Denture FAQs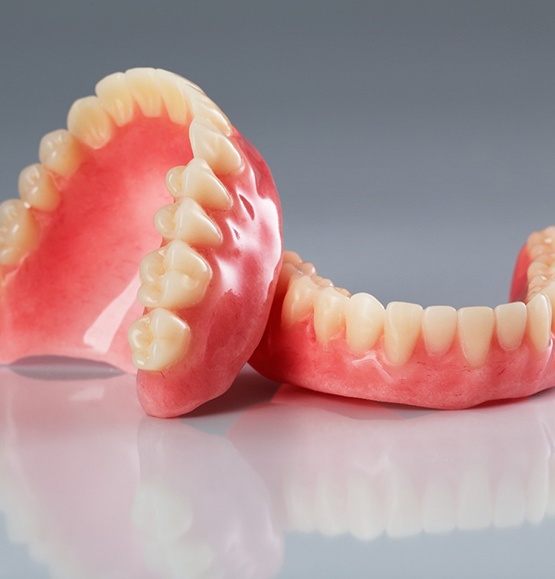 Getting dentures in Tucson is quite a change, but you'll have Dr. Lopez to help you through the initial process as well as the adjustment period. If at any point you find that you have questions, call us immediately; we're always happy to help! Below are the answers to some common questions that people tend to ask when getting dentures for the first time. If there's something specific that you want to ask that you don't see covered here, reach out to us today.
Should I Have All My Teeth Pulled to Get Dentures?
Saving a tooth is always preferable to replacing it, even when the tooth in question is damaged. So if there are still healthy teeth in your mouth, we may recommend more conservative treatment options. However, we can extract your remaining teeth to place full dentures if we deem that doing so is necessary, which is usually the case for teeth that are too badly decayed, infected, or broken to be saved. Extractions may also be a viable option if all of the teeth in an arch have become decayed or infected due to gum disease. No matter the situation, though, we'll consider every option before we recommend extractions for dentures.
What is the Average Age for Dentures?
Tooth loss is actually related to oral health, not age, so it's completely possible to keep your natural teeth for the rest of your life. That being said, it's a fact that tooth loss is more common among older patients; nearly two-thirds of adults between the ages of 40 and 64 are missing a tooth, while the same is true for only around a third of adults between ages 20 and 39. This means that patients over the age of 40 are more likely to need dentures. It's worth noting, however, that people of all ages can potentially be candidates for dentures.
Will It Hurt to Get Dentures?
Some people need to have teeth extracted before they get dentures, which means they'll have to experience the usual discomfort that occurs after oral surgery. As for the dentures themselves, they may irritate the inside of your mouth, but this is only temporary until your mouth adjusts. It sometimes takes months, but rest assured that the discomfort will fade if you continue to wear your dentures consistently.
What Can't You Eat with Dentures?
When you're learning how to eat with dentures, there are some foods you should stay away from or at least exercise caution around, such as:
Sticky foods (peanut butter, gummy candies, etc.) that can pull your dentures out of place.
Foods with small hard to chew pieces (popcorn kernels, shelled nuts, etc.) that could get stuck in your dentures or damage them.
Certain hard foods (apples, corn on the cob, etc.) that could damage or dislodge your dentures.
Tough meats (steak, pork chops, etc.) that require an excessive amount of chewing that could put excessive stress on dentures and gums.