Invisalign® Clear Braces – Tucson, AZ
Straighten Your Smile in Comfort & Style
Do you want to get a straight smile without the appearance and hassle of braces? Dr. Jay Lopez offers Invisalign as a way for you to straighten your smile in comfort and style. This orthodontic option can correct numerous issues, and it comes with a wide range of benefits. Don't hesitate to contact us for a consultation. Until then, read on to learn more about Invisalign in Tucson and whether or not it's right for you!
Why Choose Jay R. Lopez, DDS, PC for Invisalign?
Experienced Dentist & Team
In-House Digital Impression System & 3D Printing
Reliable, Friendly Office Staff
How Invisalign Works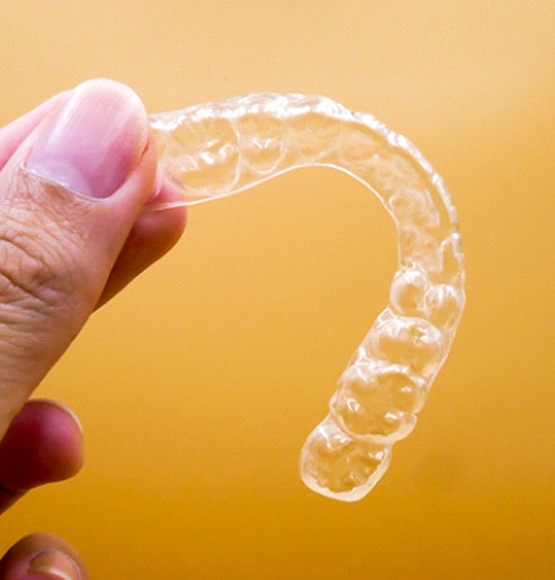 Invisalign involves the use of a series of clear aligning trays made of smooth plastic that are designed to gradually shift your teeth into place. Each tray in the series represents a different position for your smile. You'll wear your clear aligners for 20 to 22 hours a day, and after about 2 weeks, you'll switch to the next in the series. Over time, Invisalign provides lasting, beautifully straight results. The treatment will take anywhere from 8 to 18 months, depending on the severity of your misalignment. The length of treatment will also vary based on whether or not you wear your aligners as directed. Once finished, we'll provide you with a retainer to maintain your results.
Indications for Invisalign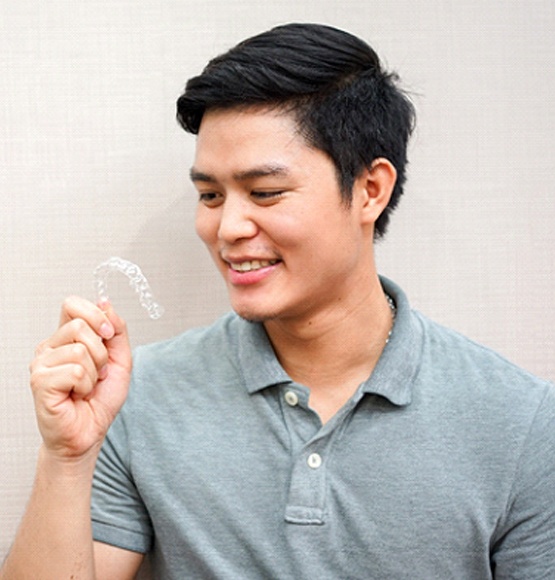 We use Invisalign to treat a variety of orthodontic issues, including:
Crowded Teeth
Crowded teeth or teeth that appear close together not only affect your entire look, but they also make it more difficult to clean your smile properly. Plaque and food debris love to hide in hard-to-reach places, putting your teeth at risk if they're crowded. However, Invisalign can correct this issue by aligning your teeth.
Gaps Between Teeth
Gapped teeth are incredibly noticeable, which is why they hurt confidence and self-esteem. Additionally, bits of food and bacteria find homes in these spaces. Thankfully, Invisalign can help by shifting teeth and closing the gaps.
Bite Alignment
Overbite, crossbite, and underbite will not only affect your appearance, but they can create jaw problems and unnecessary wear and tear on teeth. Invisalign can correct mild to moderate alignment issues, allowing you to enjoy a comfortable, straight smile.
The Benefits of Invisalign
Dr. Lopez offers Invisalign in addition to his many other dental services because of these amazing benefits:
Appearance: Invisalign is almost invisible when worn, allowing you to smile with confidence in any setting.
Comfort: Made of smooth plastic, you won't have to worry about metal brackets and wires cutting or catching the inside of your mouth.
Diet: No need to alter your diet! With Invisalign, you can enjoy all your favorite foods without damaging your orthodontics because they're completely removeable! Just be sure to only drink water with Invisalign and take it out for any other foods or drinks.
Treatment time: Typically, Invisalign takes around a year to complete, whereas traditional braces will take 2 or more years on average.
Understanding the Cost of Invisalign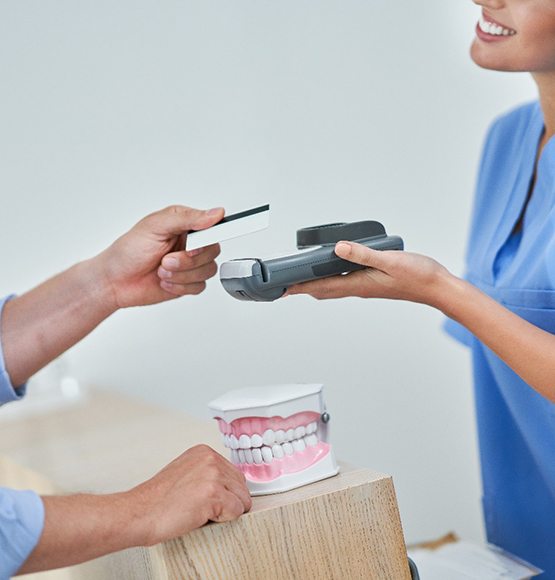 From the discreet trays to the shorter average treatment timelines, there are several aspects of Invisalign that are well known. With that said, you may find that the cost is a bit elusive. There is a reason for this: each treatment plan is custom-made. In short, your needs will be vastly different than the next person, which is why we cannot provide an estimate for your treatment until you get in to see us for a scheduled consultation. We can, however, share some important factors that influence the answer!
Important Factors that Affect the Cost of Invisalign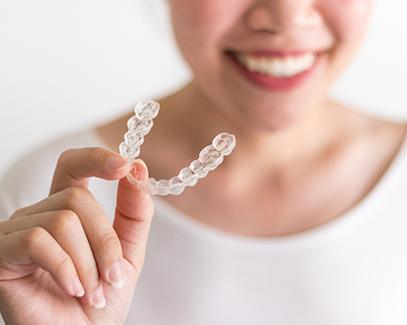 During your initial consultation, our Invisalign dentist in Tucson will consider various factors when examining you and determining if you are eligible for treatment. For example:
The severity of your case
How many aligners you need to complete treatment
If any preliminary care is needed, like periodontal therapy
If you are straightening one arch or both
Invisalign vs. Smile Direct Club™: Which Costs More?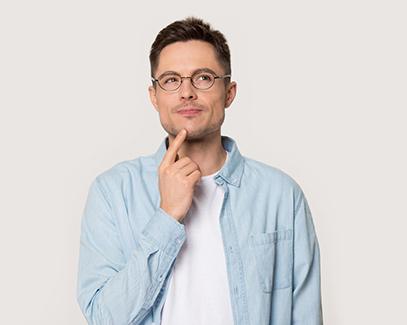 The marketing behind DIY braces companies like Smile Direct Club™ want you to believe that they offer the same reliability as Invisalign for a fraction of the cost. What they don't mention, however, is the countless lawsuits and negative patient experiences. Furthermore, notable organizations, like the American Dental Association, have actively warned the public against DIY braces companies that have no in-person oversight, rely on potentially inaccurate impressions, and don't take into account the condition of your oral health. In short, Invisalign may have a higher upfront cost, but it's well worth it when it comes to something as important as your smile.
Does Dental Insurance Cover Invisalign?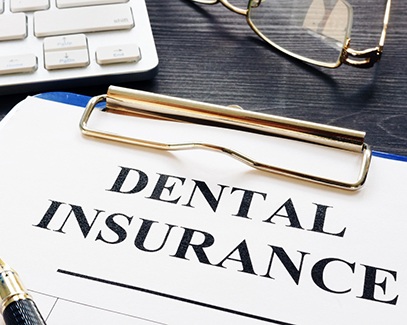 Depending on your dental plan, the answer may be yes! While some plans don't have any orthodontic benefits, others have a $1,000+ set aside for braces. There are some stipulations with this coverage, which is why it's always best to double-check with your provider or our dental team. We're in-network with many of the nation's leading carriers, including Aetna, Guardian, Cigna, and Delta Dental.
Options for Making Invisalign Affordable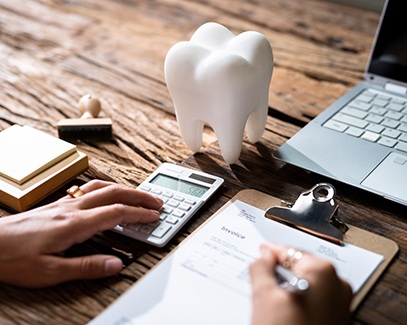 Don't have dental insurance? That's okay! Our team offers other ways to save. To start, we offer free Invisalign consultations, which will lower your out-of-pocket expenses. Second, we welcome flexible financing through CareCredit. As a result, you can pay in monthly installments instead of one lump sum. Furthermore, some plans have little-to-no interest attached. If you are interested in learning more or have a question about applying, don't hesitate to reach out!
Invisalign FAQs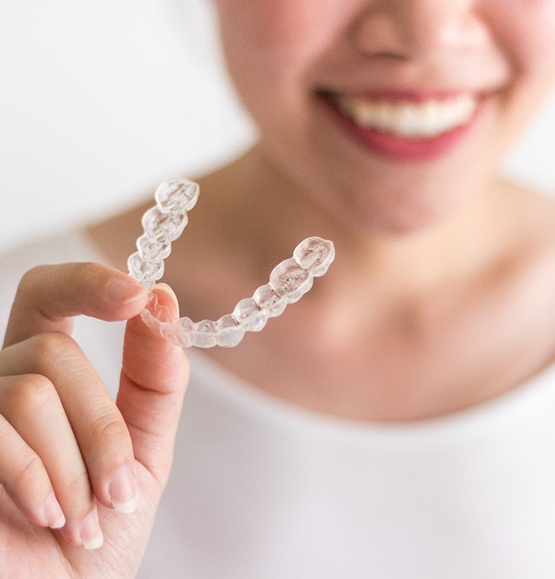 Don't like what you see every time you smile in the mirror? Luckily, you no longer have to rely on metal wires and brackets to straighten your pearly whites. Thanks to Invisalign, you can discreetly and comfortably get the perfectly aligned grin you've always wanted! Since the process is unique, it's completely normal to have a few questions in mind before committing to it. For your convenience, Dr. Lopez has decided to answer some frequently asked questions below.
How Long Does Invisalign Take?
On average, it takes about 12-18 months for patients to complete Invisalign treatment. However, the exact amount of time can vary significantly based on several factors, such as the severity of your dental misalignment and your commitment to the treatment plan. If you have mild orthodontic issues, you can expect to finish your treatment much sooner than anticipated. Meanwhile, those with severe misalignment might take longer than expected. You can speed up the process by visiting Dr. Lopez regularly and diligently following treatment instructions.
Does Invisalign Hurt?
It shouldn't! Since Invisalign's clear aligners are made from a smooth plastic design, it's considered to be one of the most comfortable orthodontic treatment options. However, you'll likely experience mild soreness and discomfort when you first get Invisalign because you have to adjust to wearing the plastic trays. Invisalign works by gradually applying pressure to a portion of your smile until the entire thing is aligned. As a result, you may experience pressure every time you advance to the next series of trays. Luckily, you can manage the discomfort by taking over-the-counter pain medication and using a cold compress.
What Happens After Invisalign?
At your last orthodontic appointment, Dr. Lopez will conduct an oral examination to ensure your teeth are in their final desired position. Then, he'll explain how to maintain your new and improved smile. One of the most important things you need to do post-treatment is to wear your retainer as instructed. The oral appliance is crucial to preserve your hard-earned results. Dr. Lopez will tell you how often you'll need to wear your retainer based on your specific needs. Most patients will start wearing it full-time before gradually decreasing to only wearing it at night.
Can You Eat with Invisalign?
Unlike traditional metal braces, there are no dietary restrictions while undergoing Invisalign treatment. However, you must remove your clear aligners before eating or drinking anything that's not water. Otherwise, you could damage your plastic trays by causing cracks and stains. Make sure you store them in their designated case whenever they're not in your mouth to keep them safe!