Traditional Braces – Tucson, AZ
Reliable Treatment for a Beautiful Smile
Thanks to modern dental technology, there are plenty of treatments that can help you overcome orthodontic issues. However, the most powerful and reliable way to improve the alignment of your teeth and bite is with traditional braces in Tucson. Dr. Jay Lopez can use this tried-and-true orthodontic solution to address problems that can't typically be fixed with services like clear aligners, offering a truly reliable treatment for a beautiful smile. If you're interested to see if traditional braces are right for you, give us a call today to schedule your free orthodontic consultation!
Why Choose Dr. Jay Lopez For Traditional Metal Braces?
#1 Complimentary Orthodontic Consultation
#2 Highly-Trained Dentist with Over a Decade of Experience
#3 Dental Insurance Welcome & Flexible Financing Available
How Do Metal Braces Work?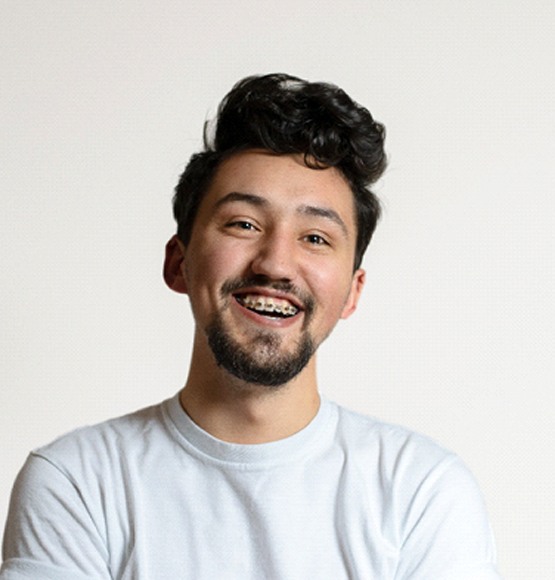 Traditional metal braces use a straightforward technique that can address even the most severe orthodontic issues. Once Dr. Lopez has determined that braces are right for you, he'll attach a series of small metal brackets to the front of your teeth. These are then connected with a small wire, which places constant, gentle pressure on the brackets and teeth. Gradually, this will shift your teeth and jaws into their ideal positions. Throughout your treatment, you'll visit us for periodic checkups to have your braces adjusted and monitor your progress.
The Advantages of Traditional Braces
Many patients wonder if Invisalign clear aligners or traditional metal braces are right for them. While each comes with their own benefits and drawbacks, traditional braces offer a few important advantages, such as:
Versatility: Clear aligners like Invisalign cannot treat all types of orthodontic problems, but traditional braces can solve virtually any type or severity of alignment.
Ease of use: Since traditional braces are bonded to your teeth, they will apply constant pressure to your smile until your treatment is finished without any extra responsibility on your part. Many patients like the idea of removable aligners, but end up losing them, breaking them, or not wearing them long enough, which can set your treatment behind schedule.
Great for all ages: Thanks to their versatility and ease of use, traditional braces are a great choice for smiles of any age!
What Should You Expect After Your Metal Braces Are In Place?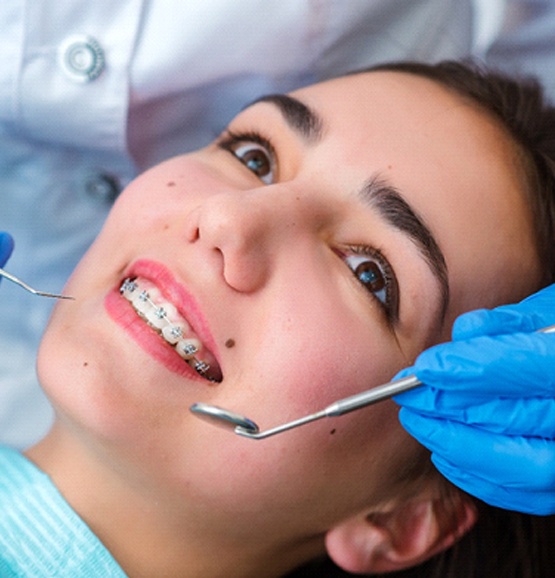 Once your braces are in place, Dr. Lopez will take the time to answer any and all of your questions, including all the best ways to help your treatment go smoothly. To make your journey towards a straighter smile as smooth as possible, remember to:
Adjust your diet: Traditional braces are strong, but the wrong foods could damage them and increase your risk of cavities, which would delay your treatment. We'll give you a list of foods and drinks to avoid, and you can always call us with any questions about your diet.
Use the right cleaning tools: You'll need to take a bit of extra time and effort to keep your smile clean with braces. We'll go over the best tools and techniques for cleaning around your wires and brackets to keep your teeth strong during treatment.
Maintain your checkups: It's important to visit us for regular checkups every four to eight weeks (depending on your unique treatment plan) so we can spot any potential issues as soon as possible and make sure you're on the fastest path towards a straighter smile.