Dental Implants in Tucson, AZ
Replace Your Missing Teeth

Permanently
If you have been bothered by your missing teeth and are unable to chew fully or are embarrassed by a gap in your smile, you owe it to yourself to learn what is possible. Initial and second opinion dental implant consultations do not obligate you to accept treatment by Dr. Jay Lopez, and these types of appointments are complimentary (free of charge).
An accomplished implant surgeon and restorative dentist, he is an active member of the American Academy of Implant Dentistry (AAID) and the International Congress of Oral Implantologists (ICOI). Dr. Jay Lopez provides comprehensive services to replace missing teeth with dental implants in his Tucson, AZ surgical and restorative dental office. These services include the placement of implants, restoration of implants with prosthetic teeth, and any necessary soft tissue and bone grafting services.
Why Choose Jay R. Lopez, DDS, PC
for Dental Implants?
All Dental Implant Services Performed In-House
Treatments Enhanced by the Latest Technology
Experienced Dentist with Advanced Training
What are Dental Implants?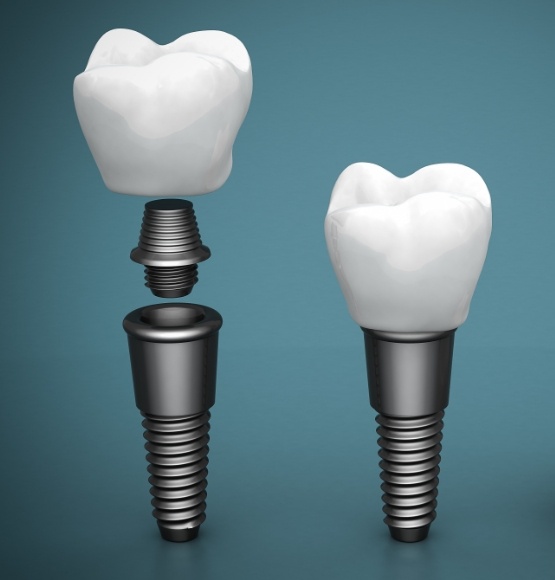 Dental Implants are special posts that are surgically placed into the jawbone to support a prosthetic tooth or denture. Once an implant has integrated into the bone, through the biologic process of osseointegration, it functions as the root of a tooth and, depending on the number of implants placed, it can be used to support a single prosthetic tooth, multi-unit bridge, or even a full denture. Implants are made of medical-grade biocompatible titanium.
Dental Implants are the
Preferred Treatment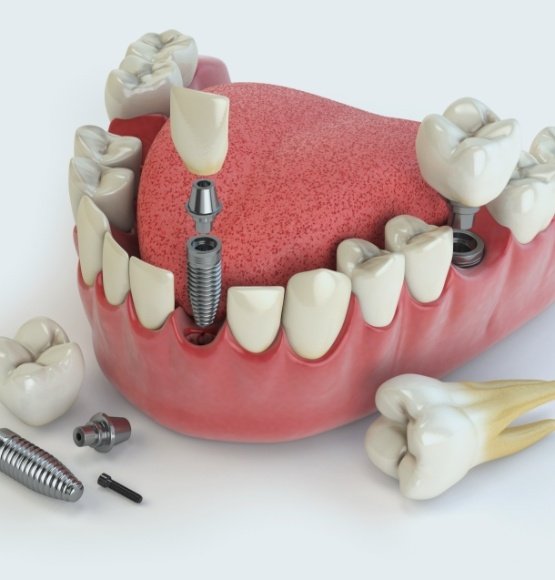 Traditionally, to replace missing teeth, dentists have treated patients with bridges retained on neighboring natural teeth, removable bridges (partial dentures), and removable complete dentures. Today, implant treatment offers patients more options and multiple benefits. Implant treatment lasts a very long time. With proper home care and regular dental visits, implants might last the rest of your lifetime.
Because implants are firmly anchored in bone, the implant crown, multi-unit bridge, or denture will not slip out of place and will provide strong chewing strength. They also offer a very lifelike appearance and help maintain healthy bone by stimulating the tissue. Unlike bridges placed on natural teeth and partial dentures that are held with clasps, implant treatment does not impact adjacent healthy teeth.
Once an implant is placed to restore a missing tooth, if an adjacent tooth is lost, the existing implant can be used to support a multi-tooth restoration. Implant treatment performed by a well-trained and experienced implant dentist, like Dr. Jay Lopez, is predictably successful.
Are Dental Implants Right for You?
You'll need a healthy mouth and a strong jaw with plenty of bone tissue in order to have implants placed successfully. After the necessary preparations have been made, and we have confirmed that you are a good candidate, we'll recommend an implant procedure based on the number of teeth missing.
Missing Single Tooth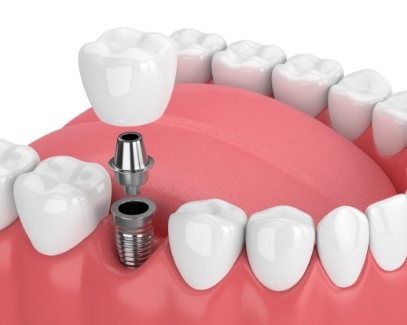 When there's just one gap in your smile, the math is straightforward: you'll receive one implant to replace one tooth. Single implants eliminate the need to alter existing teeth for a dental bridge, and they provide the jawbone stimulation that would have been lost with a traditional restoration.
Missing Multiple Teeth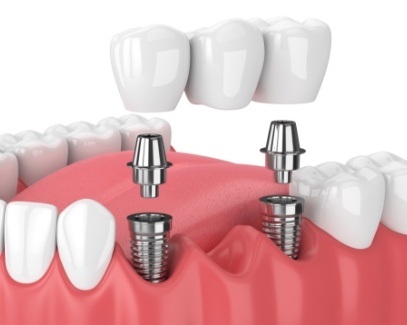 Are several teeth in a row missing? You may receive a dental bridge along with a pair of implants. Have you lost most or all of the teeth in the upper or lower jaw? You could be eligible for implant dentures.
Start-to-Finish Convenience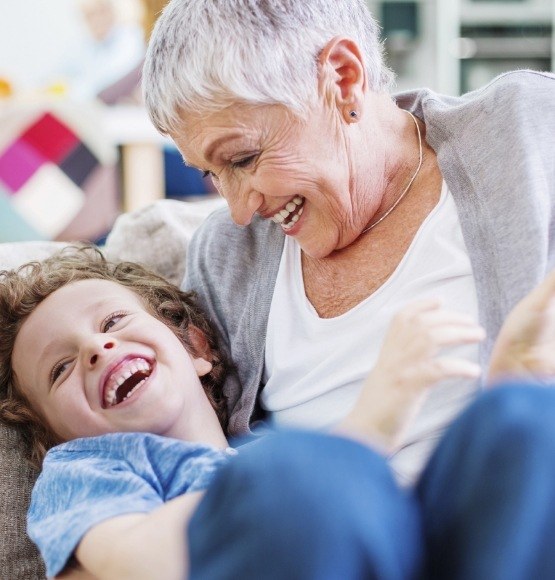 Thanks to his advanced education and years of experience, Dr. Lopez can perform the entire implant procedure in-house, including the surgery and the restoration. This eliminates the inconvenience and stress of having to visit (and pay) a separate specialist who might be located at the other end of town. With our state-of-the-art CBCT scanner, you can rest assured that you will be in good hands for your dental implant procedure.
All-on-4 &
All-on-X Dental Implants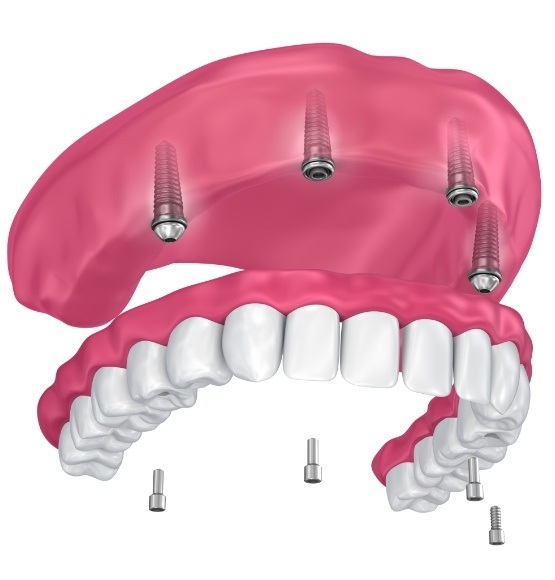 The All-on-X procedure is an advanced technique for restoring an entire arch of teeth with implants. In many cases, only 4 implant posts are needed to support full dentures (hence the common name All-on-4), but more posts might be used depending on your needs. Because of the unique way that the implant posts are inserted into the jaw, you may be able to receive temporary dentures right away so that you don't have to go toothless while waiting for your mouth to heal.
Sinus Lifts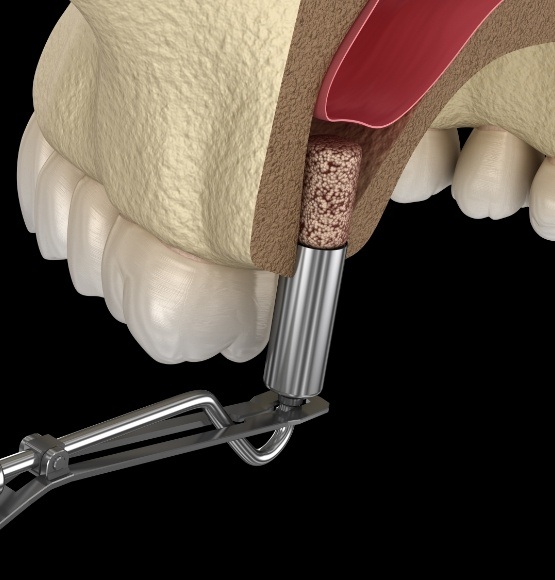 When inserting implants in the upper jaw near the back of the mouth, we'll need to make sure that the sinus cavity won't get in the way. In some cases, Dr. Lopez might have to perform a sinus lift to move the cavity up and away from the treatment area. This procedure also increases the amount of bone present in the upper jaw, so there's more tissue for the implant to join with. Implant surgery will commence after you've fully recovered from a sinus lift, which can take anywhere from a few weeks to a few months.
Bone Grafts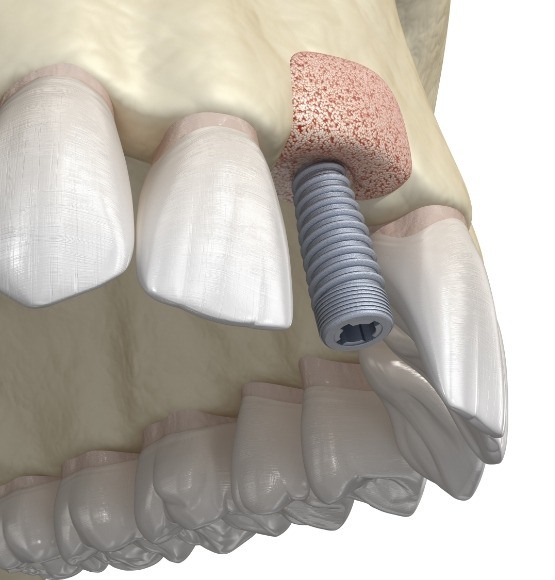 Once you've lost your teeth, the body will believe that the bone that used to support them is no longer needed and start to break it down. Implants can be used to stop bone loss, but if your jaw has already lost some of its density, you might need a bone graft before implant surgery. This procedure simply involves taking tissue from elsewhere in your body (or from a donor) and placing it in the jaw to encourage the growth of new bone.
Screw-Retained Dental Implants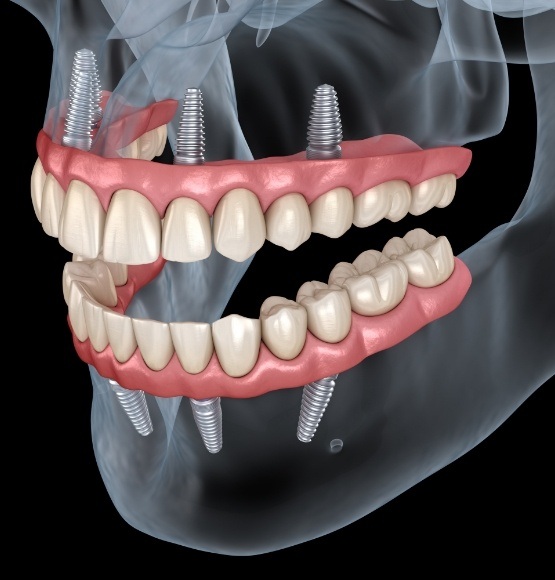 Multiple missing teeth can often be replaced with a multi-unit bridge (fixed partial denture) supported by implants. In the case of an edentulous full arch (all teeth missing), a full overdenture can often be retained on a few implant posts with screw retention. With screw retention, the patient cleans their denture in place and only a dentist can remove the screws for examination and to provide clinical care as needed.
Additional Dental
Implant Technology
The creation of Platelet Rich Fibrin from your blood and its application by Dr. Lopez ensures faster healing and more comfort after any dental implant-related surgery. Digital Smile Design allows you to see how your smile will be transformed before treatment ever begins. Dr. Jay Lopez has many years of experience achieving aesthetic smile makeovers and full mouth restoration with implant treatment.
First Step to dental
Implant Treatment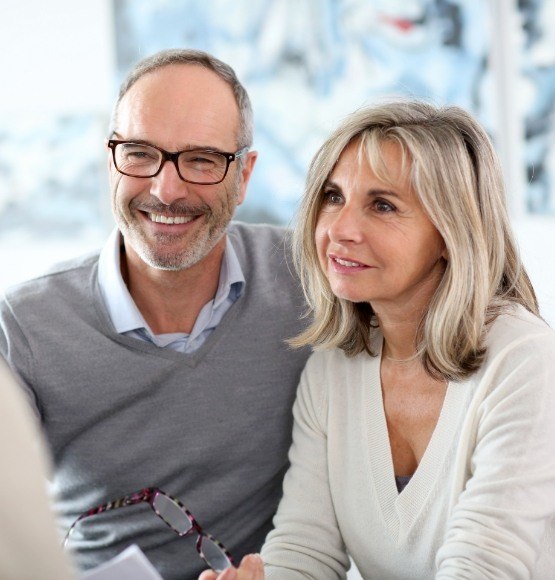 The first step is to have Dr. Lopez evaluate your total oral health needs and health status. Implant treatment sometimes requires the enhancement of bone tissue, the removal of failing teeth, and plans to coordinate implant treatment with any additional treatment you need. Your oral exam will be thorough and include digital X-rays and Digital 3D Cone Beam Computed Tomography images. Dr. Lopez will explain your options to you and fully inform you so you can make the decision that is most appropriate for you.
Benefits of Dental Implants
Thanks to their unique placement in the jawbone, dental implants are the next best thing to natural teeth. As such, this affords them a variety of important benefits that you simply can't achieve with other tooth replacement options such as dentures or a dental bridge! When you replace missing teeth with dental implants, you're investing in your health, confidence, and quality of life. Read on to learn some of the most popular reasons why our patients love dental implants!
Day-to-Day Benefits
A comfortable and stable smile: Replacement teeth supported by dental implants are more functionally stable and comfortable than their traditional counterparts. They're so comfortable in fact that you may forget they're even there!
Care for them just like natural teeth: Dental implants are immobile, so you don't need to bother with taking them out every evening to clean them. Just brush and floss like normal!
Smile with the utmost confidence: Dental implants are reliably anchored into your jawbone, so they will never slip, click, or pop out of place at embarrassing times. You can go about your day showing off your smile with the utmost confidence!
Health Benefits
Protect your bite & alleviate jaw pain: Restoring missing teeth with dental implants resolves bite problems caused by teeth shifting into the missing tooth's space and can sometimes relieve joint pain.
Preserve your jawbone & facial features: Dental implants are the only tooth replacement solution that stimulates the jawbone and prevents its deterioration after tooth loss. This helps stop future tooth loss and preserves your youthful, healthy facial features.
Maintain a healthy, nutritious diet: With dental implants, you can regain 80% or more of your natural chewing ability. This means you can easily eat steak, apples, vegetables, nuts, and any other healthy food that may be difficult to eat with traditional dentures or dental bridges.
Long-Term Benefits
Long-term results you can count on: Studies show that dental implants have a success rate of about 95% after 10 years, and most have the potential to last an entire lifetime with the proper care.
Improved health and wellbeing: Dental implants encourage better oral health because they're easy to keep clean, are self-supporting, and don't rely on remaining teeth or the gums for support. Not only does this lower your risk of oral health conditions like cavities and gum disease, but it can boost your overall health. Some studies suggest that replacing missing teeth with dental implants can even help you live longer.
An investment that pays for itself: While dental implants have a higher upfront cost than other tooth replacement options, they can easily save you thousands of dollars over the years. You won't need to buy any special cleaning tools or pastes, and you can expect to pay less for your oral healthcare costs. Plus, while other replacements need to be replaced every 5-7 years, dental implants can easily last a lifetime. Most importantly however, most patients agree that you simply can't put a price on the newfound confidence and improved quality of life dental implants can provide.