Dental Implants in Tucson, AZ
Replace Your Missing Teeth

Permanently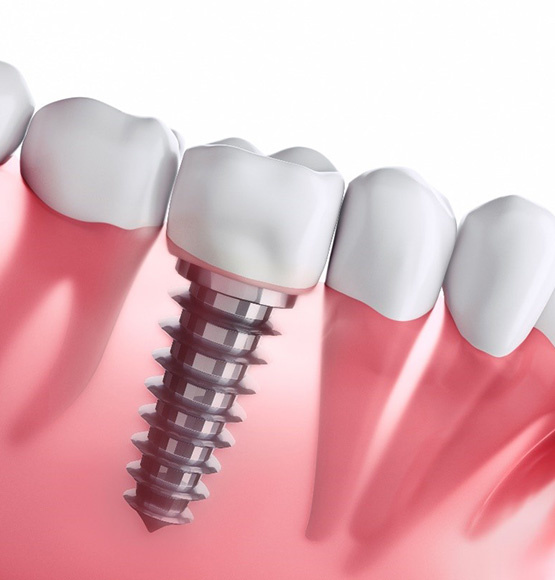 This state-of-the-art tooth loss solution replaces the entire structure of your missing tooth from crown to root. Dental implants require a minor but highly precise oral surgery, which is why most other practices need to refer their patients out to a specialist for this step. That's not the case here! Dr. Jay Lopez is an accomplished Tucson implant dentist and an active member of the prestigious International Congress of Oral Implantologists (ICOI). He can personally perform your treatment planning, implant placement, and restoration as well as any preliminary treatments you may need, such as a bone graft or sinus lift. Read on to learn more about this life-changing treatment and call us today to schedule your consultation!
Why Choose Dr. Jay Lopez, DDS For Dental Implants?
State-of-the-Art Technology for Highly Precise Results
Entire Dental Implant Treatment Completed In-House
Dr. Lopez Is a Member of the International Congress of Oral Implantologists
What are Dental Implants?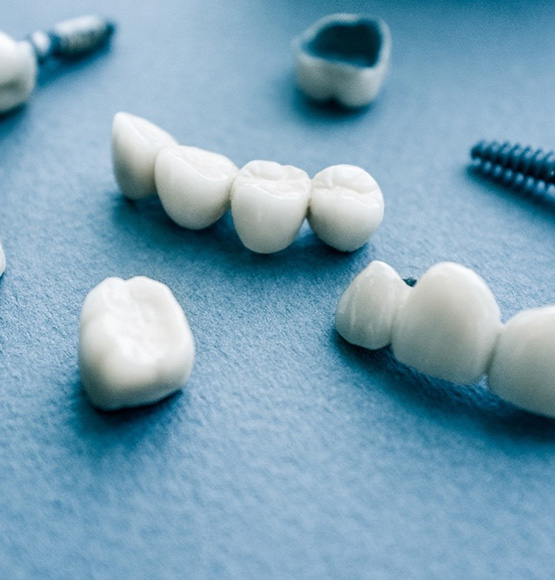 Traditional tooth replacement options only replace the visible portion of missing teeth. Without a root structure, this leaves them far less stable or functional than natural teeth. Plus, they rely on the neighboring teeth and gums for support, which can cause sensitivity and sores. Dental implants are designed to rebuild a tooth from the roots up for the best results possible.
Dental implants are small titanium posts that look a bit like a screw. These artificial roots are placed into the jawbone where a tooth once was, where it fuses with the surrounding tissue to create a new root structure. This creates a strong and reliable foundation for the restoration that is anchored on top of it and sits above the gumline. One or more dental implants can be used to support custom-made crowns, bridges, and dentures to replace any number of missing teeth with the next best thing!
The Dental Implant Process
Dental implants do take more time and planning to receive compared to traditional options. In most cases, the process takes several months, but this is for a good reason. At your initial appointment with Dr. Lopez, you'll have a chance to learn about the process in more detail before undergoing any phase of treatment. Below, you can read about the details of these phases ahead of time so you can be as informed as possible prior of your first consultation.
Initial Dental Implant Consultation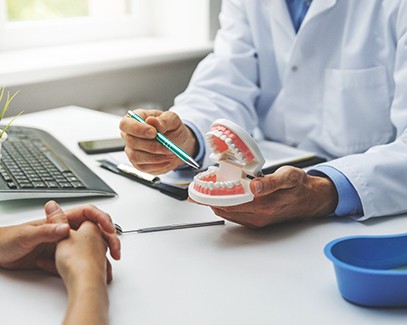 The first step is to have Dr. Lopez evaluate your total oral health needs and health status. Implant treatment sometimes requires the enhancement of bone tissue, the removal of failing teeth, and plans to coordinate implant treatment with any additional treatment you require. Your oral exam will be thorough and include digital X-rays and Digital 3D Cone Beam Computed Tomography images. Dr. Lopez will explain your options to you and fully inform you so you can make the decision that is most appropriate for your needs.
Dental Implant Surgery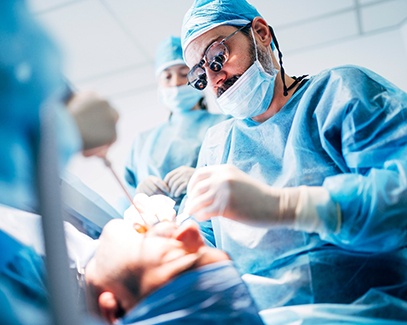 Thanks to his advanced education and years of experience, Dr. Lopez can perform the entire implant procedure in-house, including the surgery and the restoration. This eliminates the inconvenience and stress of having to visit (and pay) a separate specialist who might be located at the other end of town. Dr. Lopez uses the latest dental technology and offers advanced dental implant services such as bone grafting and sinus lifts, so you can get any service you need in the same place.
During your surgery, small incisions are made in your gum tissue so the titanium posts can be placed. Then, the gums are stitched closed so the implants can begin to heal and fuse with the jaw. Dr. Lopez and his team will go over your aftercare instructions in more detail before you leave.
Dental Implant Osseointegration & Abutment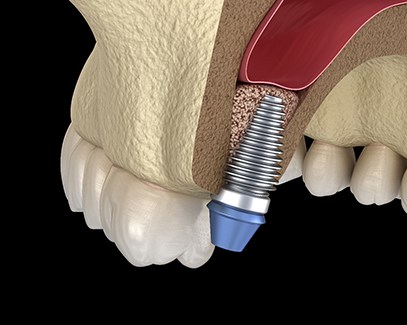 The osseointegration process is an essential part of your tooth replacement because it's this fusion of metal and bone that gives dental implants their longevity and durability. Without this crucial step, your dental implants won't remain in place. After your dental implants are attached, you'll need to wait about four to six months for the bone to grow around the implant.
Over the next few months, you'll come back to our office so we can evaluate your implants and ensure they are healing properly. Eventually, you'll visit to have your abutments placed as well. These provide a sturdy foundation for your permanent restoration. Once placed, the gums are given a few weeks to heal around your abutments.
Delivery of Dental Implant Restoration(s)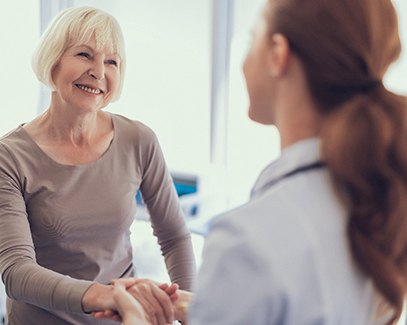 Finally, you'll return to our office one last time to have the permanent restoration attached. Whether you are receiving an implant crown, bridge, or denture, Dr. Lopez makes sure that your tooth replacement looks natural and keeps your bite even. The materials used to create your restoration are designed to match your existing enamel exactly, ensuring you can feel confident showing off your smile without anyone noticing your dental implants.
Benefits of Dental Implants
Thanks to their unique placement in the jawbone, dental implants are the next best thing to natural teeth. As such, this affords them a variety of important benefits that you simply can't achieve with other tooth replacement options such as dentures or a dental bridge! When you replace missing teeth with dental implants, you're investing in your health, confidence, and quality of life. Read on to learn some of the most popular reasons why our patients love dental implants!
Day-to-Day Benefits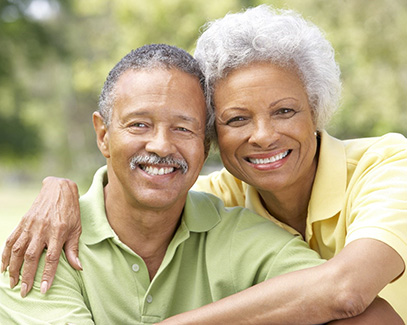 A comfortable and stable smile: Replacement teeth supported by dental implants are more functionally stable and comfortable than their traditional counterparts. They're so comfortable in fact that you may forget they're even there!
Care for them just like natural teeth: Dental implants are immobile, so you don't need to bother with taking them out every evening to clean them. Just brush and floss like normal!
Smile with the utmost confidence: Dental implants are reliably anchored into your jawbone, so they will never slip, click, or pop out of place at embarrassing times. You can go about your day showing off your smile with the utmost confidence!
Health Benefits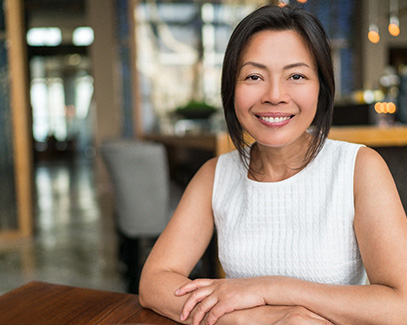 Protect your bite & alleviate jaw pain: Restoring missing teeth with dental implants resolves bite problems caused by teeth shifting into the missing tooth's space and can sometimes relieve joint pain.
Preserve your jawbone & facial features: Dental implants are the only tooth replacement solution that stimulates the jawbone and prevents its deterioration after tooth loss. This helps stop future tooth loss and preserves your youthful, healthy facial features.
Maintain a healthy, nutritious diet: With dental implants, you can regain 80% or more of your natural chewing ability. This means you can easily eat steak, apples, vegetables, nuts, and any other healthy food that may be difficult to eat with traditional dentures or dental bridges.
Long-Term Benefits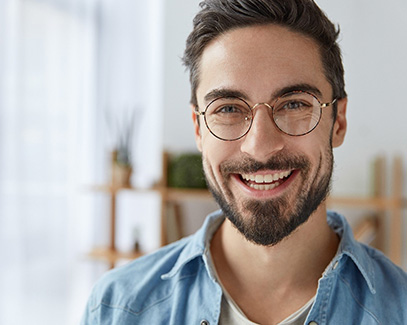 Long-term results you can count on: Studies show that dental implants have a success rate of about 95% after 10 years, and most have the potential to last an entire lifetime with the proper care.
Improved health and wellbeing: Dental implants encourage better oral health because they're easy to keep clean, are self-supporting, and don't rely on remaining teeth or the gums for support. Not only does this lower your risk of oral health conditions like cavities and gum disease, but it can boost your overall health. Some studies suggest that replacing missing teeth with dental implants can even help you live longer.
An investment that pays for itself: While dental implants have a higher upfront cost than other tooth replacement options, they can easily save you thousands of dollars over the years. You won't need to buy any special cleaning tools or pastes, and you can expect to pay less for your oral healthcare costs. Plus, while other replacements need to be replaced every 5-7 years, dental implants can easily last a lifetime. Most importantly however, most patients agree that you simply can't put a price on the newfound confidence and improved quality of life dental implants can provide.
Who Dental Implants Can Help
Whether you are missing one tooth or all of your teeth, dental implants are likely able to help! During your consultation, we will determine whether you are a good candidate for the procedure and create a custom treatment plan to meet your needs. In the meantime, here are some things for you to keep in mind.
Who Is a Good Candidate for Dental Implants?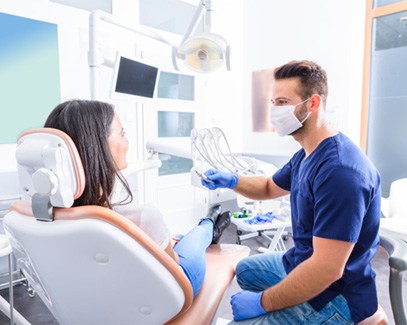 Most healthy adults are able to get dental implants. Here are some characteristics of a good dental implant candidate:
Excellent Overall Health: Placing dental implants is a surgical procedure, so it's important that you're in good enough health to undergo a minor surgery.
Great Oral Health: Cavities and gum disease can increase your risk of dental implant failure. You will need to have issues like these addressed ahead of time.
Adequate Jawbone Density: It's essential that your jawbone's strong enough to support dental implants for your treatment to be successful.
If you have preexisting oral health issues, you may still be able to get dental implants. Many of our patients need to complete preliminary treatments, like tooth extractions, gum disease therapy, or bone grafting before getting dental implants. During your initial consultation, we will evaluate your smile and put together a plan that's ideal for you.
Missing One Tooth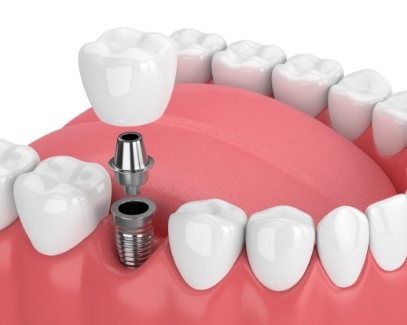 When there's just one gap in your smile, the math is straightforward: you'll receive one implant to replace one tooth. Single implants eliminate the need to alter existing teeth for a dental bridge, and they provide the jawbone stimulation that would have been lost with a traditional restoration.
Missing Multiple Teeth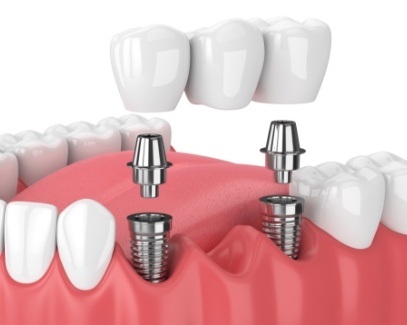 Are several teeth in a row missing? You may receive a dental bridge along with a pair of implants. Have you lost several non-consecutive teeth? You could be a good candidate for partial implant dentures.
Missing All Teeth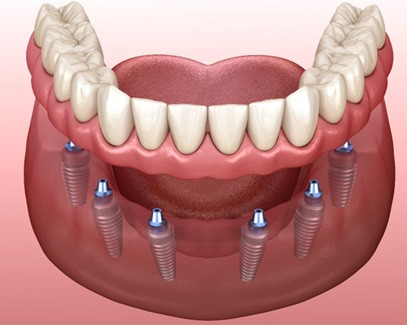 Traditional dentures are not your only option if you are missing all your teeth. We can pair them with four or more dental implants to securely anchor them in place and give you the strong, confident smile you deserve!
Alternatively, All-On-4 dental implants are a unique method that gives patients who do not have enough jawbone density the opportunity to restore their smile with an implant denture regardless. In many cases, only four implant posts are needed to support a full set of dentures (hence the name All-on-4). Because of the unique way that the implant posts are inserted into the jaw, you may be able to receive your new replacement teeth the same day as your dental implant surgery.
Dental Implants are the
Preferred Treatment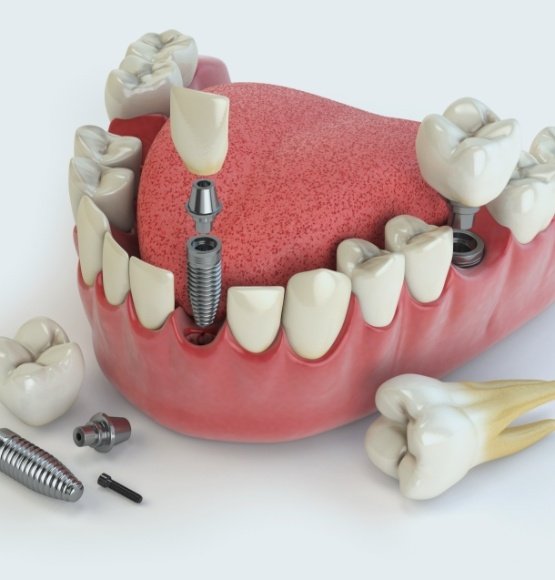 Traditionally, to replace missing teeth, dentists have treated patients with bridges retained on neighboring natural teeth, removable bridges (partial dentures), and removable complete dentures. Today, implant treatment offers patients more options and multiple benefits. Implant treatment lasts a very long time. With proper home care and regular dental visits, implants might last the rest of your lifetime.
Because implants are firmly anchored in bone, the implant crown, multi-unit bridge, or denture will not slip out of place and will provide strong chewing strength. They also offer a very lifelike appearance and help maintain healthy bone by stimulating the tissue. Unlike bridges placed on natural teeth and partial dentures that are held with clasps, implant treatment does not impact adjacent healthy teeth.
Once an implant is placed to restore a missing tooth, if an adjacent tooth is lost, the existing implant can be used to support a multi-tooth restoration. Implant treatment performed by a well-trained and experienced implant dentist, like Dr. Jay Lopez, is predictably successful.
Understanding the Cost of Dental Implants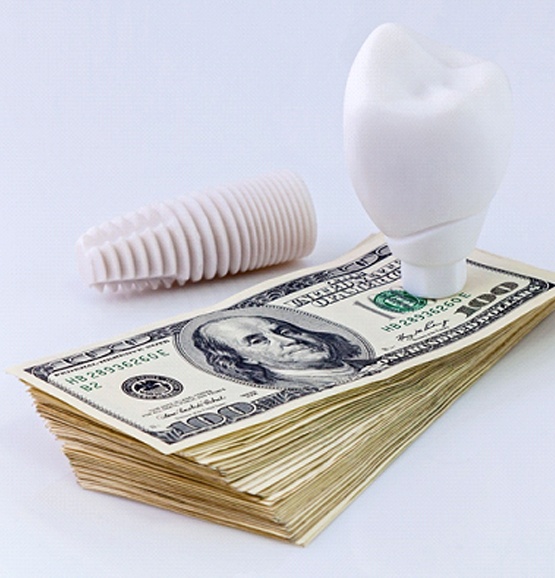 If you're ready to replace your missing teeth permanently, it's time to visit us for a consultation! During this initial appointment, we'll discuss your goals for your smile with you and evaluate your oral health and medical history. Not only will this help us determine if dental implants are a good choice for you, but it will allow us to create a custom price estimate of your treatment. Dental implants are a highly customized treatment, so prices can vary greatly from patient to patient. Read on to learn more of the most important factors to keep in mind when considering the cost of dental implants in Tucson.
Preliminary Treatments & Dental Implant Surgery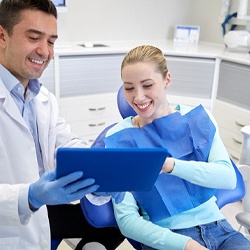 First, we'll determine if you need any preliminary treatments before moving forward with dental implants. To ensure your dental implants have the best chances of success, you may need preparatory procedures like gum disease treatment or a bone graft. These will add to the overall cost and length of your treatment, but they'll ensure your new smile lasts for decades to come!
Next, we'll consider the cost of your dental implant placement surgery itself. We're proud to perform this step of implant treatment right here in our office, saving our patients the time, money, and trouble of seeing an unfamiliar outside specialist. The cost of your dental implant surgery will vary on factors like where in the mouth your implants are being placed and what type of dental sedation you need.
The Parts of Your Dental Implant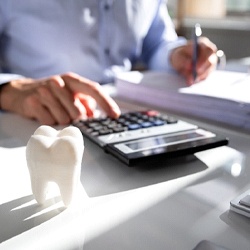 Naturally, the largest influence on the cost of your dental implant treatment will be the dental implants themselves. The price of your dental implants will depend on:
Number of dental implants: The more implants you need, the higher your cost. However, the cost of individual dental implants tends to go down the more you get.
Type of restoration: Dental implants can support crowns, bridges, partials, or full dentures, each of which will come at their own price point.
Size or material: Depending on the patient's unique circumstances, dental implants can be made longer, shorter, wider, or thinner, or they can be made of titanium, zirconia, or other materials, all of which will influence the final price.
Brand of dental implant: To ensure the best results for our patients, we only use dental implants from reputable brands that have a track record of high-quality products.
How Dental Implants Can Save You Money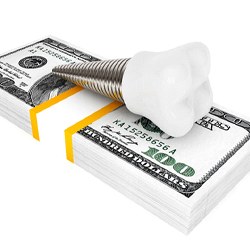 Patients are sometimes tempted to get traditional dental bridges or dentures simply because they have a lower initial price than dental implants. What they don't realize is that dental implants will save you money over time, and even typically become the more cost-effective option in the long-term. Here's how:
No extra expenses needed: You won't need to buy any special pastes or cleaners to take care of your dental implants.
Prevent further tooth loss: Dental implants are the only option that prevents jawbone deterioration, which will help keep your remaining teeth in place and help you avoid the costs of future tooth replacement.
Lower your oral healthcare costs: Dental implants promote better oral health, which will lower the cost of caring for your smile in the long run.
Save thousands on replacements and repairs: While dental bridges and dentures need to be replaced every five to seven years, dental implants have the potential to last a lifetime, which could save you thousands of dollars in replacements alone!
Does My Dental Insurance Cover Dental Implants?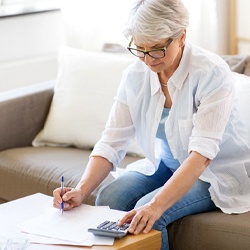 Typically, dental implants themselves are not covered by dental insurance plans. However, this is changing as dental implants become more and more popular. Our knowledgeable team will be happy to review the details of your coverage when you visit us to ensure your benefits are being maximized. In many cases, dental insurance will cover parts of dental implant treatment, such as preliminary procedures, sedation, and the final restoration.
Making Dental Implants Affordable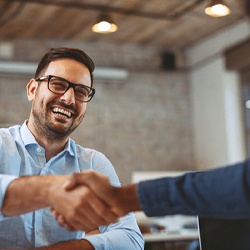 Dental insurance isn't your only option for making dental implants affordable. Uninsured patients, or those who aren't happy with their insurance coverage, have plenty of options for making their new smile a financial possibility, including:
Free dental implant consultation: To start, we offer a free, no-obligation dental implant consultation so you can see if dental implants are right for you without any stress.
Our In-House Membership Plan: With our own in-house membership plan, a flat annual fee can give you free preventive care and discounts on all our most popular procedures.
Numerous flexible financing options: If you would like to break up the cost of your dental implants into smaller, more manageable monthly payments, we are partnered with numerous third-party financing companies that offer flexible, low- to no-interest payment plans that can help!
Advanced Dental Implant Procedures
Not everyone is a good candidate for dental implants initially, but that doesn't mean they can't become one! Dr. Lopez offers a variety of advanced dental implant procedures that can help you reach a place where you're ready for dental implants. During your initial consultation, he'll determine whether you need any of the following treatments before moving on with your dental implant treatment.
Bone Grafting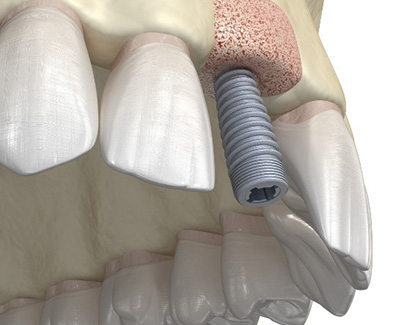 Once you've lost your teeth, the body will believe that the bone that used to support them is no longer needed and start to break it down. Implants can be used to stop bone loss, but if your jaw has already lost some of its density, you might need a bone graft before implant surgery. This procedure simply involves taking tissue from elsewhere in your body (or from a donor) and placing it in the jaw to encourage the growth of new bone.
Sinus Lifts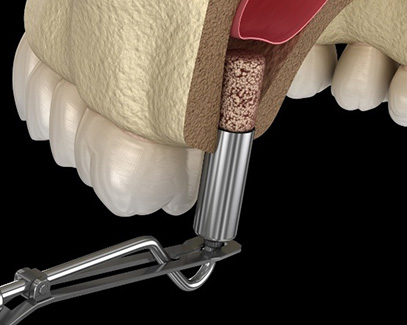 When inserting implants in the upper jaw near the back of the mouth, we'll need to make sure that the sinus cavity won't get in the way. In some cases, Dr. Lopez might have to perform a sinus lift to move the cavity up and away from the treatment area. This procedure also increases the amount of bone present in the upper jaw, so there's more tissue for the implant to join with. Implant surgery will commence after you've fully recovered from a sinus lift, which can take anywhere from a few weeks to a few months.
Platelet-Rich Fibrin (PRF)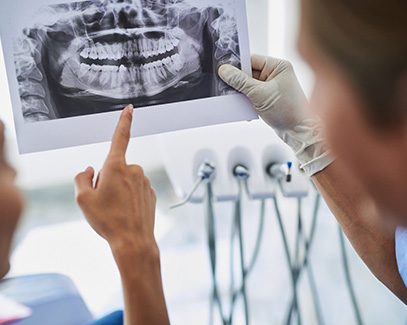 The creation of Platelet Rich Fibrin from your blood and its application by Dr. Lopez ensures faster healing and more comfort after any dental implant-related surgery. Digital Smile Design allows you to see how your smile will be transformed before treatment ever begins. Dr. Jay Lopez has many years of experience achieving aesthetic smile makeovers and full mouth restoration with implant treatment.
Dental Implants Post-Op Instructions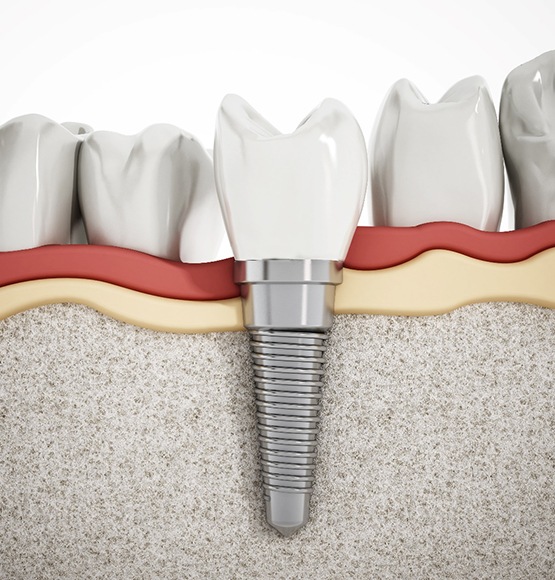 Once you've undergone your dental implant surgery, you'll need to follow strict post-op instructions to guarantee a smooth and successful recovery process. Fortunately, these guidelines are rather straightforward, so you'll be able to take care of your surgical site without any hitches. Read along to learn the steps of your dental implant post-op instructions in Tucson, or feel free to reach out to our team if you have any questions after receiving your new permanent tooth.
What to Do Directly After Dental Implant Surgery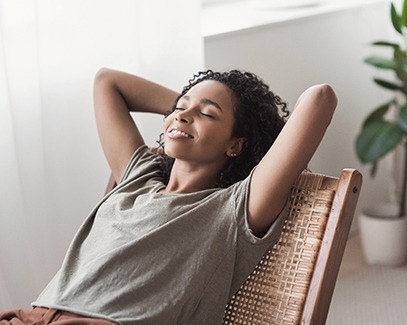 After your surgery is finished, you'll need to give yourself plenty of time to rest and recover. Here are several things you should do as soon as you leave your dental appointment:
Get ample rest over the following several days of your visit.
Try to not touch your surgical site with your fingers or tongue.
Avoid intense physical activity or exercise.
Don't drink with a straw or spit out of your mouth, as both can disrupt the blood clot forming around your implant.
Avoid tobacco and alcohol, as these can interfere with your recovery and cause implant failure.
Common Side Effects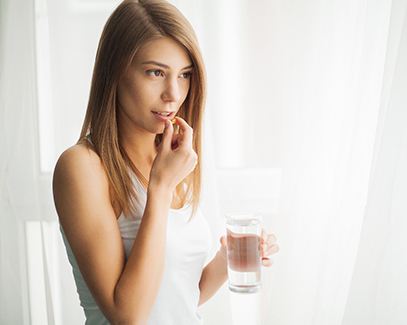 You may experience several kinds of side effects after your dental implant surgery. While these may be common, it still helps to be aware of what you can expect and how to handle them. For instance:
Mild discomfort in your mouth can be easily managed by taking over-the-counter or prescribed pain relievers as directed. Feel free to call us if you have any questions.
Facial swelling can generally be alleviated by applying a cold compress to the outside of your cheek.
Minor bleeding can be typical and may only require gauze pads throughout the day to manage it. If the condition persists for too long, reach out to us right away.
Diet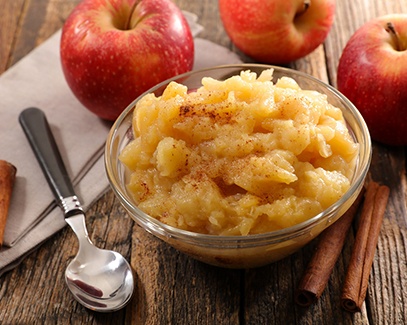 Since you'll need to allow the surgical site to heal, it's best to avoid disturbing the blood clot or any stitches. One important way to do this is by sticking to a soft food diet to prevent disturbing or damaging the implant area. These can include applesauce, yogurt, and instant oatmeal. Make sure not to munch on hot, crunchy, sticky, or hard meals that require excessive chewing, as these can dislodge the blood clot. After several days of recovery, you should be able to gradually eat your usual foods.
Health & Oral Hygiene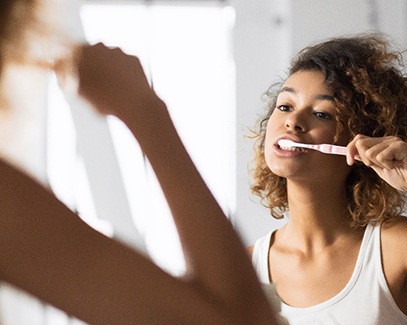 Keeping your mouth and teeth clean is essential for your healing process. However, you'll want to protect your surgical site from harm or interference. For this reason, you'll simply need to brush and floss carefully, particularly around the implant area. And if you use mouthwash, make sure it doesn't contain alcohol and that you avoid spitting it out forcefully.
What to Do After Your New Teeth Are Attached
Once our team has attached your new permanent restoration, you'll be able to enjoy the look and function of your full smile again! You might experience mild sensitivity in your gums as well. Try taking your prescription or over-the-counter pain medications to manage any discomfort in the meantime. If you happen to notice any swelling, bleeding, or any other unusual symptoms, don't hesitate to reach out to us for help.
Maintaining & Caring for Your Dental Implants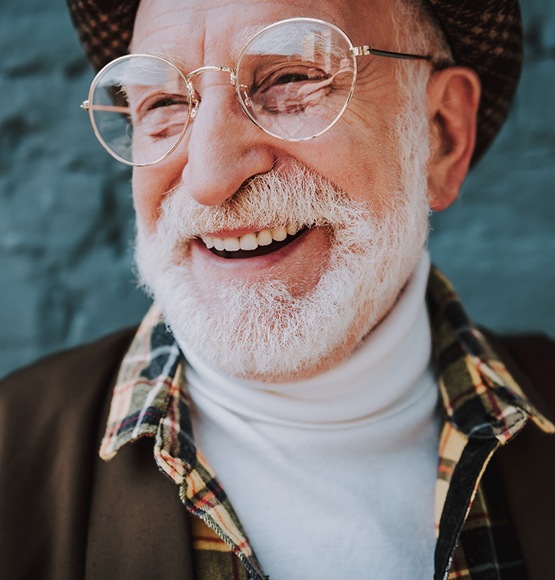 Dental implants are quickly becoming the treatment of choice for many patients because they have the potential to last a lifetime. However, that's only the case if you take proper care of them. Your new smile can easily last well over a decade if you protect them against damage and infection. After receiving your dental implants, Dr. Lopez will explain which steps you'll need to take to keep your implants firmly in place. To learn how to maintain your new and improved grin, continue reading or give our office a call today!
Make Oral Hygiene a Priority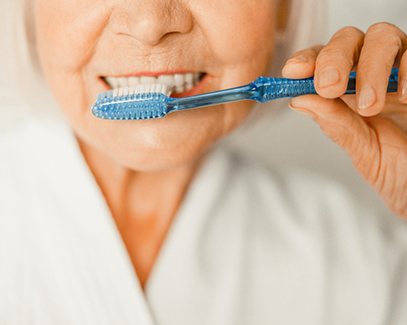 Just because your dental implants can't get cavities doesn't mean you can slack off on your oral hygiene. A solid at-home dental care routine is essential to keep your new smile strong and healthy. Brushing twice a day, flossing daily, and rinsing daily with an ADA-approved mouthwash are excellent practices that'll keep harmful bacteria from accumulating in your mouth. As a result, you can lower your risk of decay and gum disease, both of which can be detrimental to your implants.
Stick to a Healthy Diet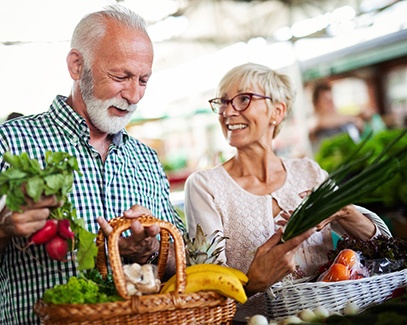 One of the advantages of dental implants is that you can eat almost any food with them. However, you'll want to avoid overindulging in sweet, sugary, and acidic items. It can wreak havoc on your smile by increasing your risk of oral health issues like decay and gum disease. Instead, try and follow a nutritious diet! By consuming foods rich in calcium and vitamin C, you can keep your jawbone strong and gum tissues healthy.
Kick Bad Habits to the Curb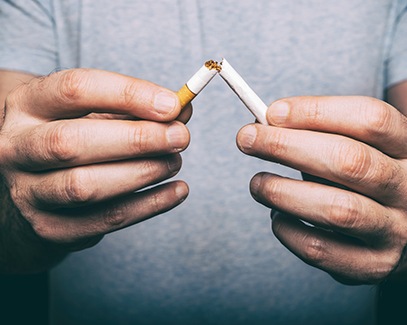 Smoking, using tobacco products, biting your fingernails, and using your teeth as tools are poor habits that can destroy your enamel and implants. Do your smile a favor and kick these habits to the curb as soon as you can! You can keep sugar-free gum in your pocket in case you ever feel tempted to chew on a non-food item. If you need assistance to stop smoking, reach out to Dr. Lopez or your doctor for resources to make the feat as easy as possible!
Protect Your Dental Implants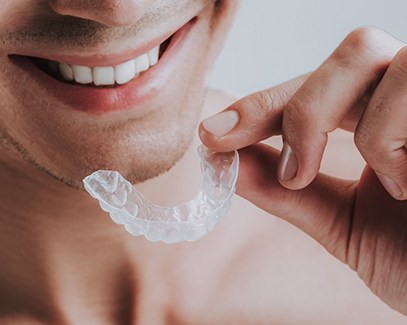 Do you regularly play sports or grind your teeth at night? Ask Dr. Lopez about a custom-made oral device. An athletic mouthguard can keep your mouth safe from impact after sustaining a blow to the face. Meanwhile, a nightguard can prevent damage to your enamel from the action of grinding your teeth while you sleep. Additionally, they'll both help you avoid chronic jaw pain that can lead to temporomandibular joint disorder.
Schedule Regular Dental Checkups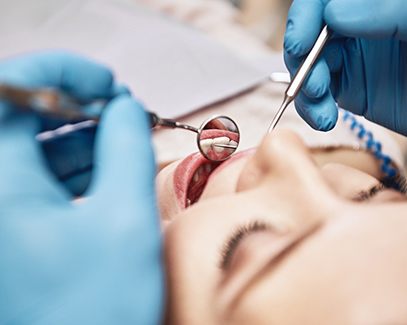 Aside from practicing good oral hygiene, you must visit Dr. Lopez every six months for a checkup and cleaning. These preventive appointments will allow him to monitor your implants and ensure no problems are developing. By addressing any issues early on, you can avoid needing more complex and costly dental work down the line.
Dental Implant Failure & Salvage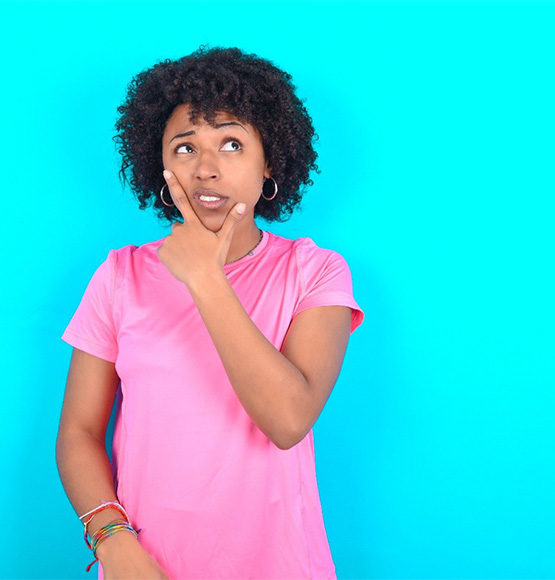 In the vast majority of cases, dental implants are successful. However, there are some rare issues, such as severe infection or traumatic injury, that can cause them to fail. If you ever believe that something is off with one of your implants, call us right away. Dr. Lopez and our team will analyze the situation and recommend your next steps. Our goal is to get your oral health back on track as soon as possible and allow you to continue enjoying all the benefits of implant-supported tooth replacement.
Learn More
Dental Implant FAQs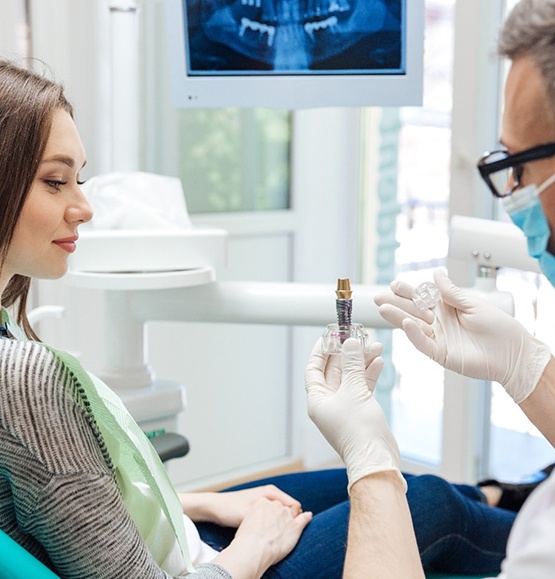 Are you ready to say goodbye to the gaps in your smile? If so, you may be thinking about getting dental implants in Tucson. Even though you know a bit more about the process after reading the information above, it's completely normal to still have a few questions in mind. For your convenience, we've decided to answer some frequently asked questions we receive from patients below. If you can't find the answer you're looking for, don't hesitate to reach out!
Does Getting Dental Implants Hurt?
Before your procedure, Dr. Lopez will numb your mouth with a local anesthetic to ensure you're completely comfortable. On top of that, you'll also most likely be under sedation, which will help lower your body's ability to register pain. Although dental implant surgery itself shouldn't hurt, your mouth may feel slightly sore and sensitive for the first few days following your procedure. The good news is that you can easily manage your discomfort by taking pain medication as needed and using a cold compress.
What Can Cause Dental Implants to Fail?
Rest assured – dental implant failure is pretty uncommon and typically happens because of peri-implantitis or failed osseointegration. Peri-implantitis is a form of gum disease that develops from poor oral hygiene. It can damage the bone and gums supporting the implant. Meanwhile, failed osseointegration is when the post doesn't integrate with the surrounding bone tissue. Some other common causes of implant failure are chronic teeth grinding, tobacco use, and certain medications.
Can I Get Dental Implants If I Smoke?
Even though it's possible, you should keep in mind that smokers are at an increased risk of dental implant failure. Using tobacco products can cause dry mouth, which delays healing and can affect the implant's ability to fuse with the jawbone. Not only that, but smoking can also cause a painful complication known as dry socket. Therefore, it's recommended that smokers quit at least two weeks before their oral surgery and wait to resume the habit for at least two to three months afterward. Of course, this is the perfect opportunity to kick this habit to the curb for good. Your health will thank you!
Is There Anything I Shouldn't Eat with Dental Implants?
It's strongly recommended that you stick to a soft-food diet for the first few weeks after your oral surgery. That means you should stock up on foods like mashed potatoes, yogurt, oatmeal, and soup. During this initial period, you'll also want to avoid alcoholic, sugary, and acidic drinks. Once you're all healed up, you can eat almost anything you could eat with natural teeth! To keep your smile intact, you should continue to exercise caution with hard, sticky, and chewy foods.