Restorative Dentistry – Tucson, AZ
Repair Your Worn
Down or Broken Teeth
At JJay R. Lopez, DDS, PC, in Tucson, Arizona, we offer a full range of restorative and aesthetic procedures. Our goal is to provide you with the finest quality treatments that will meet your satisfaction for many years to come. We focus on each patient one at a time and will give you the personalized attention you deserve. Dr. Lopez will tailor your dentistry to your specific needs and preferences, and he will guide you in choosing the best therapies and materials to achieve the most beautiful and long-lasting results.
Why Choose Jay R. Lopez, DDS, PC for Restorative Dentistry?
Advanced Technology for Planning Treatments
Dentist with a
Step-by-Step Approach
Long-Lasting, Lifelike Restoration Materials
Dental Crowns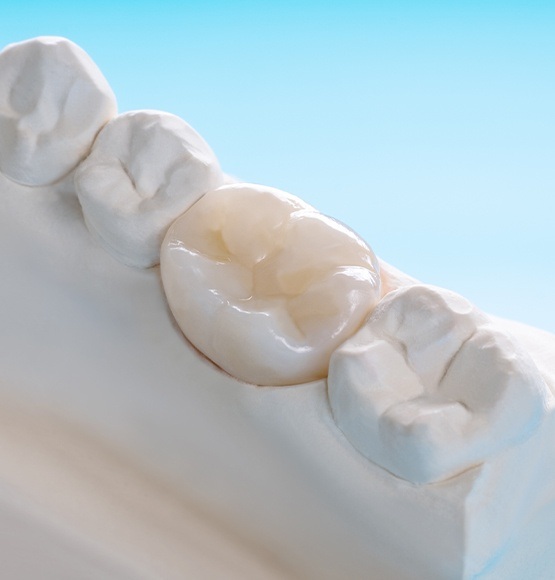 A dental crown is a tooth-shaped "cap" that is placed over a tooth to restore its shape, size, strength, and function. Dr. Lopez will design your crown in concert with a preferred lab technician to ensure the most predictably long-lasting, comfortable, and naturally beautiful treatment. When crowns are cemented into place, they fully encase the visible part of the tooth that is above the gum line. Often, a provisional (temporary) crown is made to cover a tooth while a stronger, natural-looking crown is made in a dental lab.
Learn More About Dental Crowns
Inlays & Onlays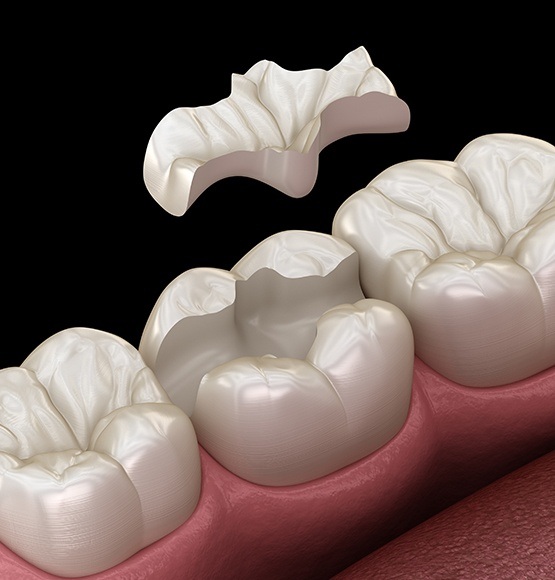 Porcelain onlays and inlays are used by Dr. Lopez for large cavities or very decayed teeth that do not require a full crown. An inlay made of porcelain is custom fit to fill a cavity. An onlay is shaped to not only fill the cavity but also wrap over one or more cusps of a tooth without fully covering the full tooth. Porcelain is not only lifelike in appearance but stain-resistant and strong. It comes in numerous tooth-colored shades. Dr. Jay Lopez will carefully match your inlay or onlay to the natural color of your tooth. Your restoration will blend so beautifully that you may forget it is there.
Dental Bridges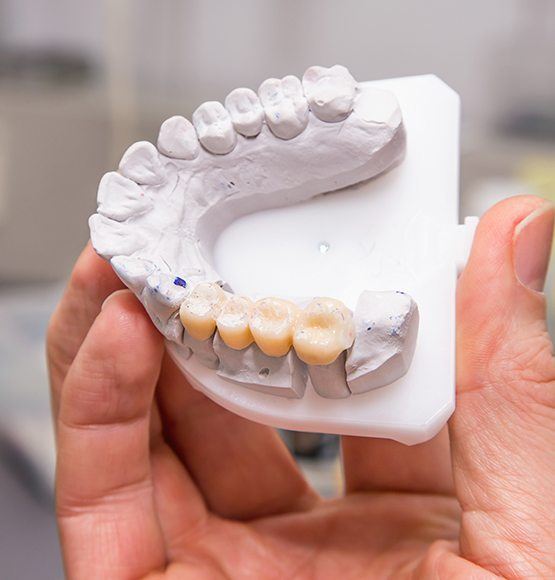 A fixed dental bridge is a non-removable appliance used to replace missing teeth. A traditional fixed bridge consists of two crowns that go over two anchoring teeth and one or more prosthetic teeth that are suspended between them. Porcelain dental bridges are highly durable and can last many years. They provide more stability than a removable bridge but are not as stable as prosthetic teeth placed on dental implants.
Learn More About Dental Bridges
Dentures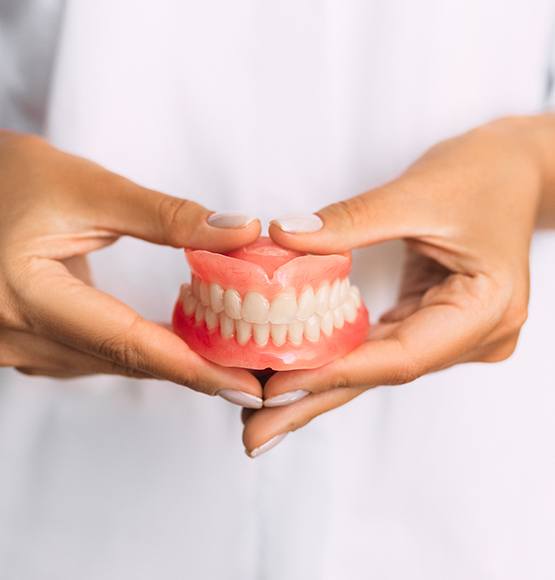 Complete dentures are used when all teeth are missing on the upper or lower arch. This type of denture fits over your gum tissue. Because dentures can slip, causing irritation and social anxiety, more and more patients are choosing to have their complete dentures stabilized with dental implants.
Implant Dentures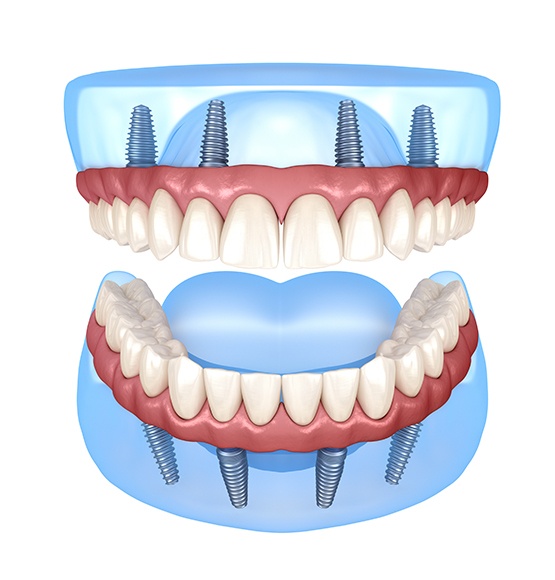 There are two main types of removable implant-dentures that can be used in place of a traditional removable partial or complete denture. An implant-denture can be snapped onto locator attachments on a few dental implants or on bar attachments.
Learn More About Implant Dentures
Dental Implants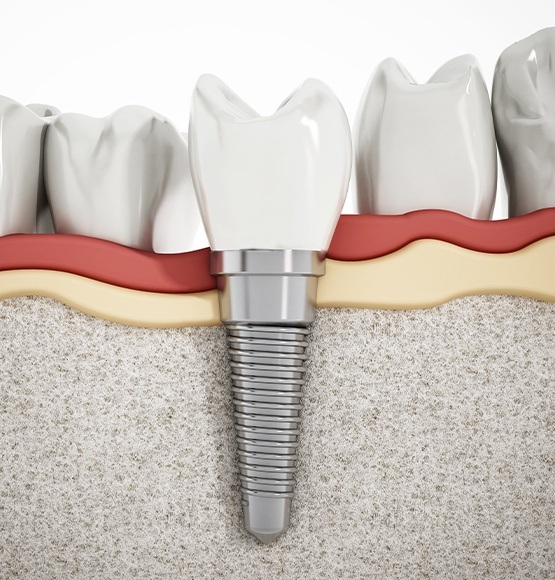 Dental implants are the recommended standard of treatment today for the replacement of missing teeth. Our Tucson patients are very fortunate to have the expertise of Dr. Jay Lopez, who has advanced surgical training and experience providing comprehensive dental implant services – including bone grafts, sinus lifts, implant placement, and implant restoration. Most general dental offices need to refer patients out for the surgery, and they only attach the restorations to implants. On the other hand, surgeons only provide the surgical phase of treatment. It's easier and streamlined for our patients to remain here in the comfort of our dental office with our personalized attention for both their surgical and restorative phases of treatment.
Dr. Lopez is one of only a few dentists who has invested in 3D Cone Beam CT technology. Using modeling software and 3D CBCT scans, Dr. Lopez can do more precise treatment planning before proceeding with actual surgical procedures. More precise treatment planning equates to safer surgeries, less trauma, and less post-treatment discomfort.
Dr. Lopez offers sedation options for all dental procedures if you prefer. Many of our implant patients choose in-office moderate IV sedation. This ensures that a patient stays totally relaxed, so surgery is smooth and EASY! A single biocompatible titanium implant can be placed in the jawbone to support an implant crown or multi-unit bridge. Oftentimes, hybrid overdentures can be retained on four or more implants. A removable snap-on denture can be supported on a few implants as a less costly option to a hybrid denture.