Veneers – Tucson, AZ
Easily Erase Dental Imperfections from Your Smile
Is there something you don't like about your teeth? Have you found yourself wishing you could have a set of pearly whites just as perfect as celebrities like Morgan Freeman, Tom Cruise, or Miley Cyrus? If you have chips, cracks, stains, gaps, or other flaws in your smile, Dr. Jay Lopez can help with veneers in Tucson! This versatile treatment can easily erase dental imperfections from your smile as if they were never there in the first place. In fact, this popular cosmetic service is what many stars have to thank for their red carpet-ready smiles. Read on to learn more about veneers and give us a call when you're ready to schedule a consultation.
Why Choose Dr. Jay Lopez For SERVICE?
#1 Talented Dentist with Years of Training & Experience
#2 Preview Your Results with Our Virtual Smile Design Technology
#3 Flexible Financing Options Available to Make Treatment Affordable
How Do Veneers Work?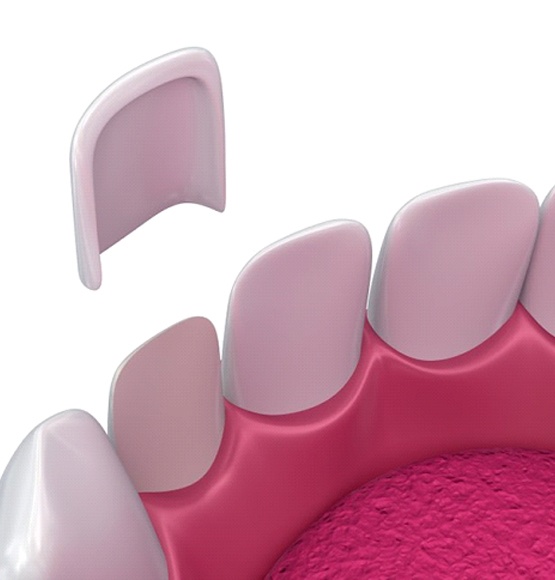 Essentially, a dental veneer is adhered to the front of a tooth to completely transform its appearance. Each ultra-thin, tooth-shaped shell of dental porcelain is custom-made to precisely cover the entire front-facing surface of a tooth and match the color of the surrounding teeth for seamless results. Dental porcelain is well-known for how much it looks like natural tooth enamel, and it's extremely durable and stain-resistant as well. This versatile treatment can be used to address a wide range of cosmetic flaws, such as:
Small chips or cracks in the teeth
Stubborn stains or patches of discoloration
Small gaps or spaces between teeth
Teeth that are naturally small or misshapen
Teeth that are slightly crooked, uneven, or worn down
The Process of Getting Veneers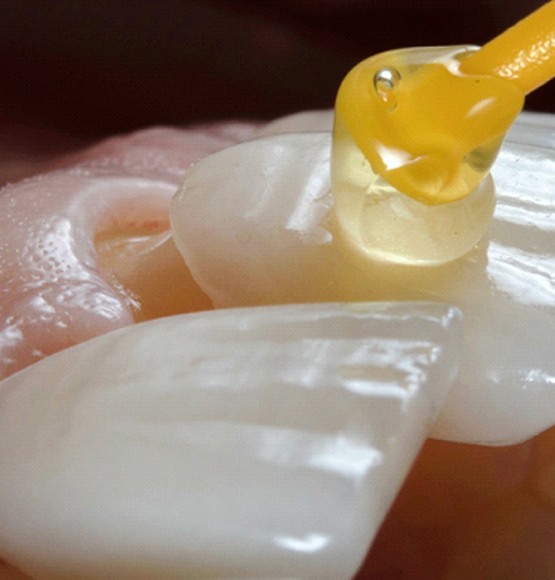 If you're interested in veneers, your first step will be to come visit Dr. Lopez for a consultation. Once he's gotten to know you and your goals for your smile, he'll take a look at your teeth to make sure you're a good candidate for veneers. If you are, he'll work with you to create a treatment plan, complete with how many veneers you'll need and how much your treatment is likely to cost. We'll even be able to use our virtual smile design technology to give you a preview of your results before beginning.
Next, we will gently etch the surface of your teeth, which will help the veneer form a strong bond with the surface. We'll take impressions of the area and send that information off to a local dental lab, where it will be used to craft your veneers. In the meantime, we'll fit you with temporary veneers to keep your teeth comfortable and safe until your next appointment in a few weeks. Finally, you'll return to our office to have your beautiful, custom-made veneers permanently bonded into place. Once we've made sure your bite is comfortable and that you're pleased with your results, you'll be all set to go out and show off your brand-new smile!
What Are the Benefits of Veneers?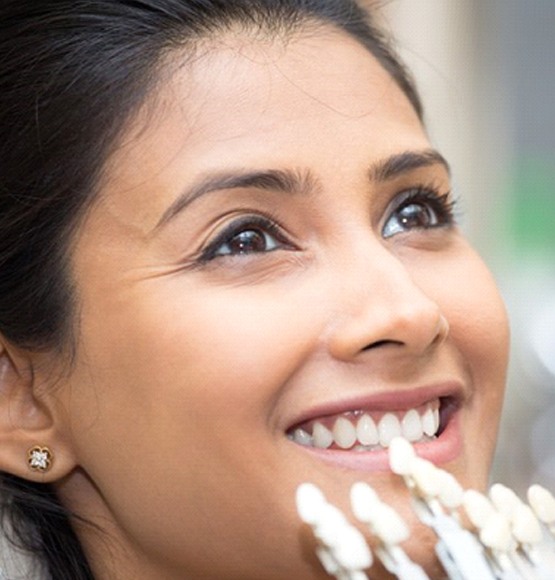 Veneers are one of our most popular cosmetic services, and its easy to see why! They offer benefits such as:
Beautiful, completely natural-looking results
Ability to easily transform several flaws at once with one treatment
Versatile use to treat numerous types of imperfections
Fast, minimally invasive treatment
Long-lasting results that you can count on
Understanding the Cost of Veneers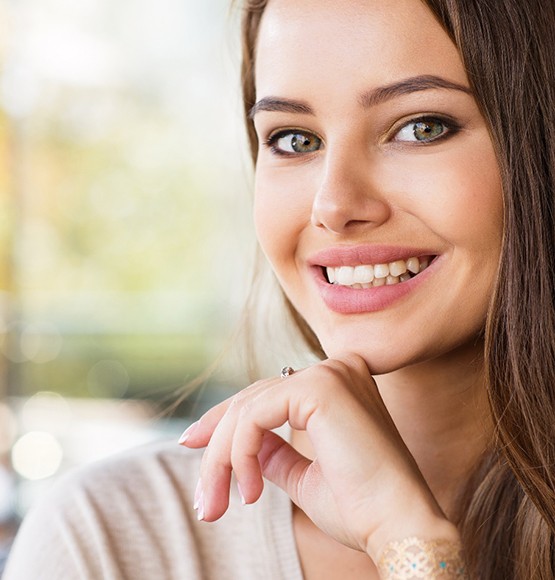 Before getting veneers in Tucson, you likely want to know how much it'll cost before committing to anything. Even though the price is a significant deciding factor, it's important to remember that you get what you pay for. If you want to have the picture-perfect smile you've always dreamed of, veneers are an excellent solution to consider. To find out whether or not this cosmetic service is right for you, continue reading or give our office a call today!
Cost vs. Cosmetic Dentistry: What's Right for Me?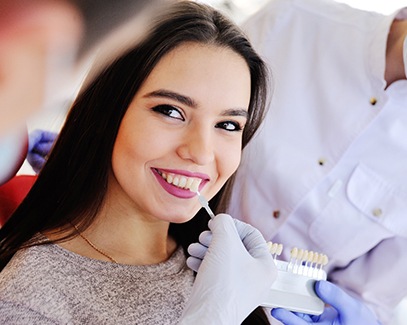 Since various cosmetic services can accomplish different things for your look, it's incredibly important that you survey all your options before deciding on one. While you may have your heart set on veneers in Tucson, you should explore other solutions that can help you achieve stunning results at varying price points, such as:
Invisalign – Do you have crooked or misaligned teeth? You may want to consider straightening them with clear aligners like Invisalign. The modern orthodontic treatment can help you discreetly and comfortably get the smile you've always wanted. Of course, they can be a big investment for something that can't change the color or shape of your teeth.
Teeth Whitening – If you want to improve the color of your smile, consider getting professional teeth whitening! It's a fast, affordable, and effective solution that can make your grin several shades brighter. Keep in mind that this service can only with tooth color – not the shape or position.
Veneers – Even though veneers are more expensive than the options listed above, they're the only solution capable of transforming multiple aspects of your smile at once (i.e., color, shape, position). Plus, your new grin can last well over a decade with proper care and maintenance!
How to Make Veneers Affordable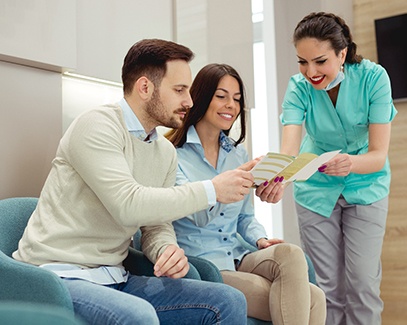 Dental insurance typically doesn't offer coverage for veneers since they're not considered medically necessary. Because of that, you'll need to find an alternative way to pay for your treatment. Luckily, we offer additional financing options to help make your dental bills much easier to manage. Some of those include:
CareCredit Financing – With this option, you can split up the entire cost of your treatment into smaller monthly installments. Plus, most plans have little-to-no interest attached and come with no pre-payment penalties or hidden fees.
In-House Membership Plan – For one low annual fee, you can get the essential preventive services you need and enjoy sizeable discounts and many other services, including veneers.
Are you ready to transform your smile? Contact our office and schedule your consultation today! We'll help you get your dream look while keeping your total expenses as low as possible.
Veneers FAQs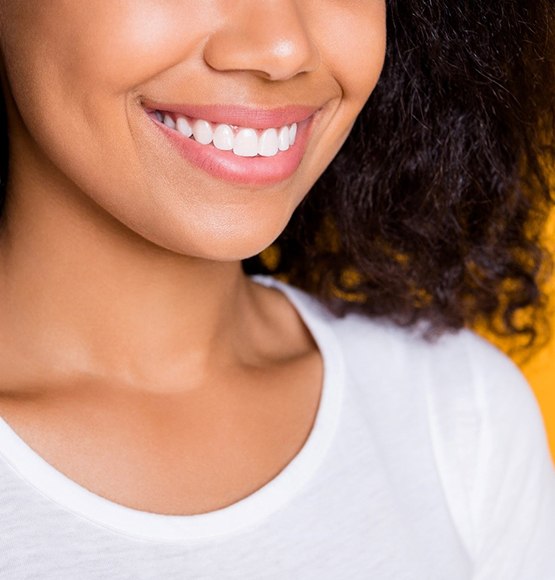 Whether you're interested in subtle changes to your smile or you're looking for a full makeover, veneers can address a wide variety of imperfections all with a single treatment. We understand if you have questions, which is why we're encouraging you to speak with us in detail during your consultation. You'll find some of the most common questions we've answered over the years below for your convenience. We look forward to helping you achieve your dream smile!
Are Veneers Permanent?
Technically, veneers are not permanent, but the process for them to be placed is. In order for the veneers to sit flush, slight modifications to your enamel need to be made. This step is irreversible, so you'll want to make sure you absolutely want veneers before going through treatment. Removed enamel does not grow back, meaning once they are covered with veneers, they will need to stay that way. If the veneers become damaged in some way, they will need to be replaced in order for you to maintain your smile's appearance.
Do Veneers Feel Like Real Teeth?
Once the veneers are placed, you can expect them to feel incredibly natural inside your mouth. You should not notice them while speaking or eating either, so you can smile with total confidence. This is because the veneers are carefully crafted to fit over your teeth exactly using personalized, digital impression technology. Additionally, one of the reasons we remove enamel is so the veneers do not protrude uncomfortably. The smooth porcelain used to create your veneers is also very smooth, so they won't irritate the soft tissues inside your mouth.
Is It Painful to Get Veneers?
Prior to veneer placement and enamel treatment, your mouth will be numbed so you do not feel any pain during the procedure. With that said, it's normal to have some mild sensitivity and discomfort when the temporary veneers are placed and the anesthetic has worn off. It's more common to experience discomfort if you have several veneers placed at a time. For example, two to four veneers generally cause little to no pain, but eight or more can lead to soreness in the gums and jaw. We do advise against eating too many very hot or cold foods or beverages over the next 24 hours after treatment as it can lead to "bonding sensitivity." This refers to the material used to adhere the restoration to your teeth. Ibuprofen can also help provide relief.
Is There Anyone Who Shouldn't Get Veneers?
If you have cavities or gum disease that has not been resolved, you will need to have these issues handled first. Dental problems can grow worse underneath veneers, which is why we will not place veneers if you have them. Additionally, we may not recommend veneers if you have a teeth grinding habit. This should be handled before you consider cosmetic restorations. The last thing we want is for them to become chipped or cracked as a result of grinding and clenching.
How Long Do Veneers Last?
Veneers in Tucson can last for 10 years or more, but many factors affect their life expectancy. You can get the most from your investment by committing to good oral hygiene. Use non-abrasive dental products to prevent scratching your restorations. Commit to brushing your teeth at least twice per day for 2 minutes. Don't forget to floss every day. Limit your consumption of sugars and starches to keep your mouth cavity-free. Break any bad habits that can damage your teeth, like chewing on pencils or using your teeth in place of scissors or other tools. Wear an athletic mouthguard if you play sports. Schedule a cleaning and checkup with your dentist every 6 months to ensure your new smile lasts.
How Many Veneers Will I Need?
A veneer can be applied to a single tooth to cover a stain, chip, or another imperfection. However, the overall goal is to enhance your entire smile. Your cosmetic dentist in Tucson will recommend bonding them to the teeth visible when smiling. Since every mouth is unique, there isn't any way to know how many you'll need without first examining your mouth. Some patients may only require 4 or 6, but others may need 8 or more. This will create seamless results to ensure your new smile looks natural.
Can Veneers Get Cavities?
Veneers can't get cavities, but your underlying teeth are still vulnerable to decay, which will cause your new smile to fail. It's best to moderate sugars and starches because they feed cavity-causing bacteria. Good oral hygiene and regular dental care will keep tooth decay at bay.
Can I Use My Dental Insurance to Pay for Veneers?
Veneers are an elective service, so it's uncommon for dental insurance to pay them, but there are exceptions. Your insurance may pay a portion of the expenses for your consultation, diagnostic services, or preparatory procedures. If your dentist determines veneers are medically necessary, like when needing replacements, your benefits may pay some of the expenses. A member of our office will work on your behalf to maximize any applicable coverage to lower your out-of-pocket expenses.