Dental Crowns – Tucson, AZ
Improve Functionality by Restoring Your Smile
Broken and decayed teeth are not an uncommon occurrence. For centuries, people have used various materials and techniques to safeguard and strengthen weakened teeth plagued by decay or serious damage. Fortunately, advancements in dentistry and technology now allow for safe and effective restorative options like dental crowns in Tucson. Dr. Lopez and his team can easily repair your smile and improve its functionality with the help of these tried-and-true, custom-made restorations. If you believe you may be a candidate for dental crowns, contact us today to schedule an appointment.
Why Choose Dr. Jay Lopez for Dental Crowns?
Advanced Dental Technology Used for Accurate Treatment Planning
Reliable and Long-Lasting Restorations
Dental Insurance Welcome and Financing Available
What is a Dental Crown?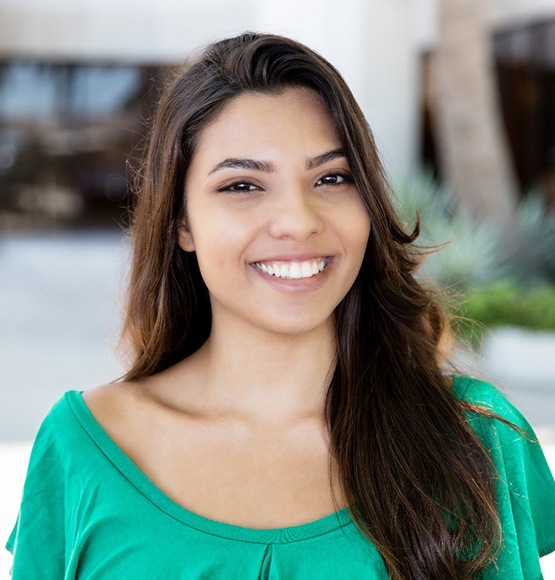 A dental crown is also referred to as a "cap." Designed to fit over the chewing surface of a tooth, it helps to protect and strengthen weakened teeth. Dental crowns are often made from various materials such as traditional amalgam, ceramic, porcelain, or many others.
When meeting with your dentist in Tucson to discuss your eligibility for treatment, a dental crown will likely be recommended if you have one of the following:
A severely decayed tooth that cannot be treated with a standard dental filling
A damaged tooth that occurs as a result of facial trauma
A tooth that recently underwent root canal therapy
A tooth that is replaced with a dental implant
A tooth that is discolored or stained
Several missing teeth that are replaced using a dental bridge
The Dental Crown Process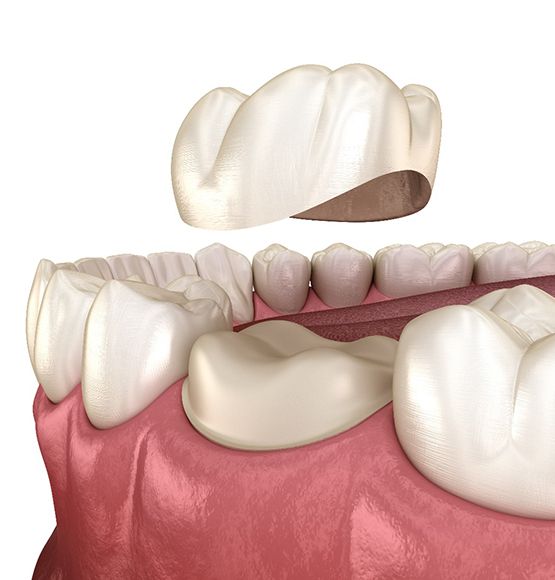 Meeting with Dr. Lopez will allow you to better understand if you are eligible to receive a dental crown and if so, how the process will work. The first step is for our dental team to clear out the damaged or decayed areas of your tooth. Using specific dental instruments, he will remove the necessary parts of the tooth structure before filling it with composite resin to create a tight seal. Once the resin hardens, he will alter the tooth to ensure the finalized crown will fit properly in place.
Taking impressions of your teeth, he will work alongside lab technicians to ensure your new restoration matches the correct size, shape, and color. He will also make sure that your new tooth offers full functionality, added comfort, and a beautiful aesthetic.
Before you leave this first appointment, you'll receive a temporary crown, which you will wear while your finalized restoration is created. After a few weeks, you will return to our office to have the temporary removed and the permanent crown cemented into place.
The Benefits of Getting a Dental Crown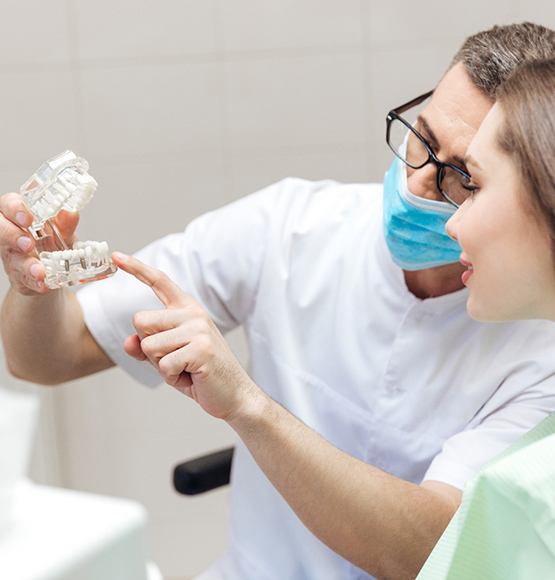 Dental crowns offer an endless array of benefits. As a patient receiving this type of restorative dentistry, you will be pleased once your finalized restoration is firmly in place and ready for use. Some of the most common advantages that come with dental crowns include:
Improved functionality when eating and speaking
Greater confidence because of the aesthetically pleasing restoration and its ability to blend in with the rest of your smile
Restorations that can last 10-15 years with proper care and maintenance
Minimal risk for oral health problems by filling and securing a dental crown over your weakened tooth
Understanding the Cost of Dental Crowns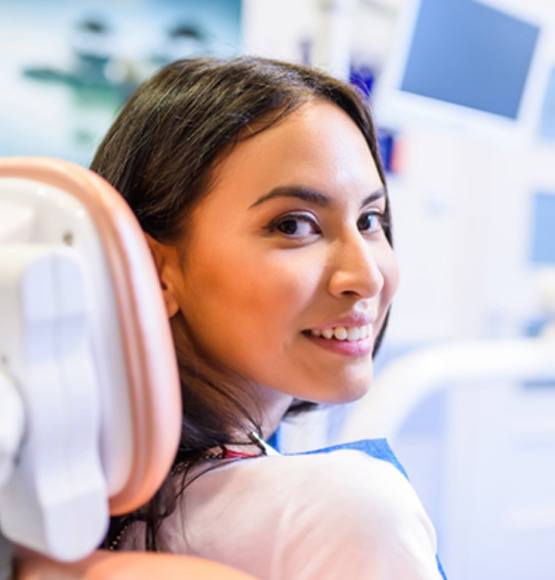 When you decide to get a dental crown, you'll naturally want to make sure that it fits into your budget. Our team will gladly answer whatever questions you have regarding the cost of your crown, and we'll provide a trustworthy estimate before the process begins. You can count on us to help you take full advantage of your insurance coverage, and we can point you toward other payment options if need be.
Factors That Affect the Cost of Dental Crowns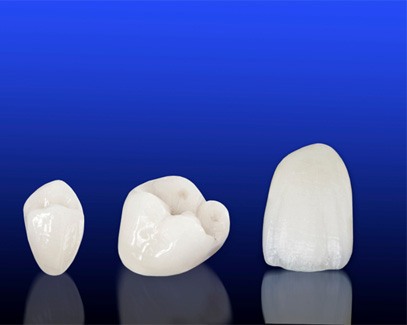 It might seem like the question "How much will a dental crown cost?" would have a single answer. The fact of the matter is, though, that every dental crown is different, and the final price of your own restoration will be influenced by:
The Number of Crowns: Patients with multiple damaged teeth will naturally need to get multiple crowns. The amount you pay depends on how many crowns are placed.
The Reason for the Crown: Are you getting a crown as the last step of your root canal therapy? Or will it be used to restore a dental implant post to replace a missing tooth? Depending on the reason a crown is necessary, there may be additional costs to consider.
The Material Used to Make the Crown: Crowns can be made out of a variety of materials to fulfill the unique needs of each patient. Your crown might have a higher or lower cost depending on what material is selected.
Does Dental Insurance Cover Dental Crowns?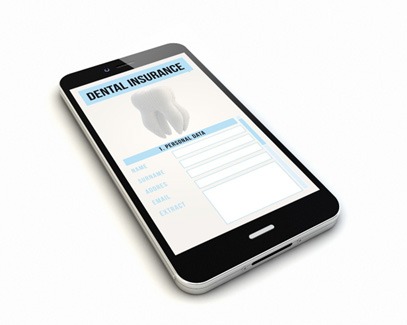 You should always double-check your dental insurance policy to see if the treatment you're considering is included under your benefits. Most insurance plans are willing to pay for crowns as long as they're placed for oral health reasons and not simply to change the appearance of the teeth. Getting a dental crown is normally considered a major procedure, so coverage tends to be around 50% of the total cost.
Our team can go over the particulars of your dental insurance with you. We'll take the time to address anything that could affect the amount your insurance company pays, such as whether you've met your deductible or how close you are to reaching your maximum for the year.
Options for Making Dental Crowns Affordable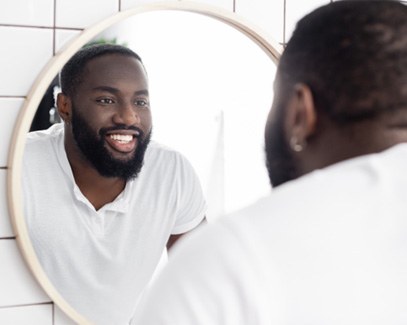 Do you not have dental insurance? You're not alone; many of our patients fall under this category, and we've made sure they have other financial options to consider:
In-House Membership Plan: You can sign up for our membership plan and save 15% on various procedures performed at our practice.
Financing: With financing, you're able to pay for treatment at a rate that puts less strain on your bank account. There are multiple financing options to choose from such as CareCredit, GreenSky, Proceed Finance, Alphaeon, and LendingClub.